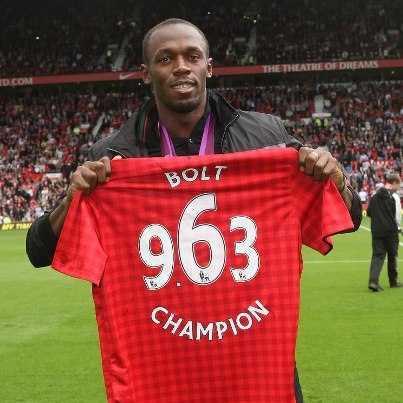 Entertainment
Usain Bolt set to play for Manchester United
By
|
He's always teased that he might try another discipline but no one quite expected Usain Bolt to take on a whole different sport entirely!
It seems that dreams really do come true…well, at least for Olympians anyway. The Jamaican athlete's wish to play for his beloved Manchester United has allegedly been granted as Old Trafford boss Sir Alex Ferguson has invited him to take part in a friendly against Real Madrid next season.
The London 2012 double gold medal winner revealed earlier this year that he would love to play for the team, even if it meant giving up  athletics, and Ferguson heard his cry and is happy to take him on for this charity match. The fiery Scotsman told Inside United: "Usain's a character and a big United fan. But it's interesting he says he'd like to play in a charity game. It could be brilliant, and next year when we play Real Madrid's Legends again, there could be opportunites to bring him up and see how he does."
We will have to wait and see if Usain can impress Sir Alex, but if he ends up moving to Manchester permanently we won't be able to contain our excitement!