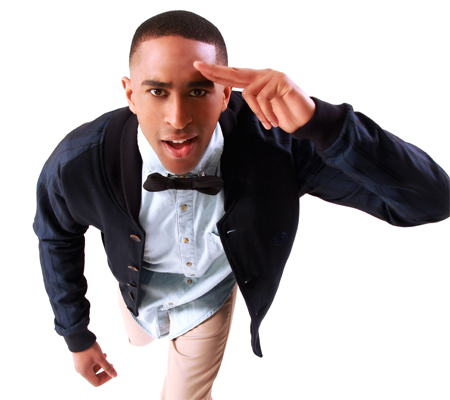 Interviews
10 minutes with… AJ KING
By
|
Few people can call themselves 'The Chosen One' but Kiss FM presenter AJ King is one man who can. He spoke to Pride about life at the station, disaster dates and standing up Trey Songz… well, almost.
So AJ, how did it feel to be named 'The Chosen One' by Kiss FM in their search for a new presenter?
Amazing! Before I entered the competition, I'd been volunteering for four or five years on a community-run station called Bang FM in Harlesden. I'd just left university and I just threw myself into the whole process. People thought I was crazy! I almost didn't enter but then four people, all unrelated, emailed me within the space of five minutes to tell me that I should. It was a sign.
You've been at Kiss for a little over a year now. How's it going?
It's been an absolute whirlwind. I started doing Sunday mornings from 6-8am, then Kissalicious on Saturdays. Last year, the boss man Andy Roberts called me in and I instantly assumed I was in trouble! Instead, he told me he wanted to try me in the 10pm-until-midnight slot. I couldn't even style it out, that's how excited I was!
You're on air most weeknights and on Saturday evening. Do you even have a social life?
Yes I do, but it's hard! My evenings and Saturdays are occupied, so I literally only see my friends when I'm not at work. Sometimes I'll bring them along to a party I'm spinning at to kill two birds with one stone.
What's the Kiss family like? Has anyone given you some good advice?
The Kiss family are a tight bunch. When I joined it felt like being part a very special club. David Rodigan told me to really hone my craft and listen to other presenters' shows to pick up tips. Rickie and Melvin have been really encouraging too.
Ever had a bad celebrity guest experience?
Yeah, I was once late to interview Trey Songz! I hadn't organised myself properly that day and ended up sprinting like a mad man down Oxford Street to get to the station. When I got there and met him, he was annoyed and it was deathly silent, so I said to him, "Where have you been? I've been waiting for ages!" He actually thought I was crazy but he laughed. That interview turned out to be one of the best I've done.
What three things couldn't you live without?
My decks – I've got Pioneer CDJs – my car and my iPhone 5 which, disappointingly, is a bit of a rip-off.
Ever had a date from hell?
Yes! I took a girl out on a first date to a nice restaurant in Islington and dropped her home afterwards. She let me come in to use her bathroom but, unfortunately, the chicken I ate gave me a bad stomach and I ended up blocking her toilet! It was one of those situations where I was like,"Please Jesus, help me!" And he didn't.
If you weren't a DJ what would you be doing?
Up until last year I was teaching workshops in DJing and radio production, as well as music events management for 13-19-year-olds, so I think I'd be doing that.
Catch AJ on Kiss FM Monday-Thursday from 10pm-midnight and on Saturdays from 5-8pm.