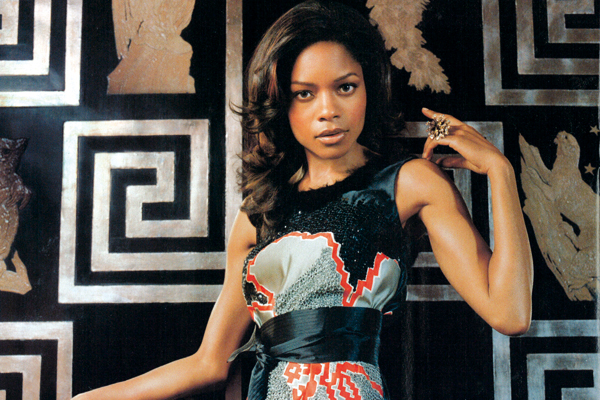 Fashion
My Style File: Naomie Harris
By
|
British actress Naomie talks about being overwhelmed with fashion and throwing out her hand-me-downs! By Shevelle Rhule
Posing and strutting her stuff at the Glamour Women of the Year Awards in a sexy gold-and-black mini-dress, Naomie Harris stands with a fierceness that makes you look twice. This young woman from north London, now one of Britain's finest actresses, looks at ease (where once awkward) in front of the flashing paparazzi, and a cheeky grin cements it. It's taken a few years for Naomie to find her own niche in the fashion game, gracing a few "what was she wearing?" polls in the process. However, her last few public appearances have seen her in a gorgeous Louis Vuitton puff-sleeved dress, a Victoria Beckham LBD, and a Julien Macdonald futuristic number. That, I am willing to bet, is simply the start of the fabulous looks to come.
Describe your style, please.
By day, I'm all about comfort and wear long floaty dresses and large pieces of ethnic jewellery in the summer. But by night, I'm all about the glamour, which often requires being uncomfortable and teetering around in high heels and dresses I've been sewn into!
Where do you like to shop?
I hate shopping! I get totally overwhelmed by the amount of choice there is, so I have my stylist, Arabella Greenhill, shop for me. Then I just sort through what I do and don't like in the comfort of my home.
Who are your favourite designers?
I love Falguni & Shane Peacock at the moment. They are Asian designers who are not very well known here but are huge in Asia. They create really bold, colourful pieces with lots of beading and embroidery – just the kind of thing I'm into.
What is your shopping weakness? 
I'm just not a born shopper, so I'm very good at resisting temptation. I would say I don't have a weakness in that area. Although, if I do find something I like, I have a terrible habit of buying the same thing in different colours.
What is your most expensive fashion buy?
A blue silk vintage puffball skirt, but I'm terrified when I wear it that someone will spill something on it, or I'll fall over and rip it.
How do you think your style had evolved?
As a child and into my 20s, I was more than happy to wear hand-me-downs and never really understood the importance placed on clothes. My view was, so long as they were comfortable, I was fine! From working as an actress, I've really discovered the power and importance of clothes. Clothes are a costume, and the way you dress can change the way you feel. With that awareness, I'm now much more focused on a style of clothing that is bold, colourful, comfy and also sexy, because that's how I want to feel.
Who is your style hero?
Thandie Newton. She never makes fashion faux pas, and she's always immaculately turned out, sophisticated and ahead of any trends.
What is your hair regime? 
The hairdresser I work with in LA is Kim Kimble [hairstylist to Beyoncé], who has her own line of products called Kimble, which I use religiously. I genuinely don't think there are any better products for ethnic hair on the market.
Any fashion tips? 
The most attractive look is when a person is comfortable in his or her own skin. Wear clothes that make you feel good; don't blindly follow fashion trends or wear clothes that make you feel self-conscious.