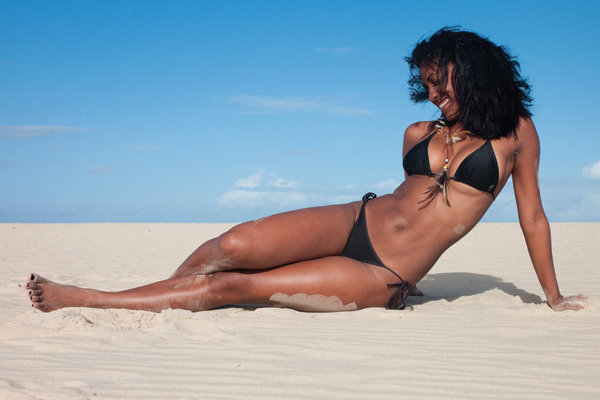 Beauty
Silky, Sexy Legs
By
|
Get your pins out with confidence this summer. By Shevelle Rhule
Fuzz Off 
The first step in the quest for leg beauty is perfecting the ultimate leg fuzz-free regime. Start by eliminating hair with Miss Wax by Elegant Touch Hair Removal Wax Strips (£4.99; 020 8573 9907), which include organic blackberry blossom and a formula enriched with vitamin E; they're even suitable for sensitive skin. Always avoid waxing during your menstrual cycle, as your skin is far more sensitive than usual. An essential in your bathroom cabinet should be Bliss Ingrown Eliminating Pads (£26; www.blisslondon.co.uk), a godsend after waxing or shaving. Many black men and women are more likely to suffer from ingrown hair due to the curly nature of the strand, which results in it growing back into the skin. The easy-to-use wipes alleviate ingrown lumps and bumps after hair removal, and the Japanese green tea reduces inflammation, too. A great lazy-girl option is Nair Pretty Naturals Exfoliating Hair Removal Cream (£4.99; www.boots.com), which is three products in one: an exfoliating scrub, hair removal cream, and moisturizer.
Skin Conditioning 
Make your legs stand out by ensuring they are well moisturized and conditioned with Korres Guava Body Butter (£11.50; 08708 50 38 68). Guava is an important source of vitamins, and shea butter is known for its softening and restructuring properties, while the sunflower, almond and avocado oil nourish the skin and restore elasticity and smoothness. If imperfections are preventing you from showing your legs in your sundresses, check out Prtty Peaushun Skin Tight Body Lotion (£38; www.beautyworkswest.com), which is available in shades from plain and dark to deep dark. It contains subtle light-reflecting particles in a natural emollient base, which gives a gorgeous glow. The radiance conceals minor blemishes and evens skin tone, while firming legs and reducing the appearance of cellulite and stretch marks. After a long day, get legs back in working order with Elemis Instant Refreshing Gel (£27; www.timetospa.co.uk). This multifunctional instant revitalizer is perfect for tired legs. It contains soothing extracts of witch hazel and cooling menthol, offering immediate relief.
Twinkle Toes 
Give feet some well-deserved TLC with Liz Earle Foot Scrub (£10.25; www.lizearle.com). This hard-working scrub intensively exfoliates hard skin while still feeling gentle. It leaves your feet thoroughly buffed and smoothed. Since feet will constantly be on show in the summer, exfoliate fortnightly to keep them sandal-ready. For a really concentrated smoothing experience, try using Bliss Softening Socks (£36; www.blisslondon.co.uk). Simply slide these moisture-gel-padded socks on for 20 minutes, or overnight for particularly neglected feet. It is a great trick for restoring moisture to both hands and feet. Maintain foot suppleness by moisturizing daily with Origins Reinventing the Heel (£19; 08700 346 522). The heavy cream soothes soles and rough patches, while the richness of rose fruit, jojoba oils and menthol provides a refreshing kick.
Leg Fitness 
The most effective exercise to get legs toned are burpees. Start in a squat position, with hands on the floor. Kick legs back to a push-up position, spring to your feet and immediately get back down into a squat position; repeat ten times. Lunges focus exclusively on strengthening your legs and bum. Stand with your shoulders back, and take a step forward a few feet in front. As you land, push your front knee forward and straighten your back leg, so it's around an inch above the floor. Lastly, try step-ups, using anything that can sustain your weight and draw the core. You can add dumbbells to make them more difficult.