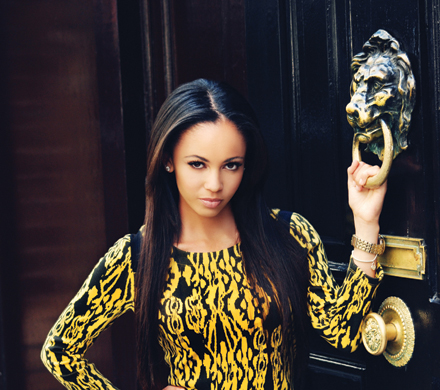 Fashion
My Little Black Book: Vanessa Morgan
By
|
Canadian actress, Vanessa Morgan, opens up her little book of secrets.
All a Flutter
I only like to use organic make up, unless it's my mascara. For bronzer, I use Dr Hauschka and an eyeliner by Zuzu, which is another organic line. My beauty tip for applying mascara is to stroke downwards first and then upwards. I also use Latisse. I comb that on and then I put the mascara over it – when I do this people always think they're fake!
Eat Well 
My favourite places to eat are The Station in Ottawa and a great Italian called Vittoria Trattoria. Blue Cactus is also good – I like everything on the menu. Yesterday I went there with my girlfriends and had the Ahi Tuna.
Striking Oil 
On my hair, I like to use Moroccan Oil and Kérastase – I was actually looking through magazines and realised they're recommending Kérastase. I thought, "Oh, good!" as I didn't know that other people loved it as well as me.
My Big Fat Greek Vacation 
My favourite holiday destination has to be Samos, Greece. It's so beautiful and it's still untouched by urbanisation – it's not Americanised at all. It's just so pure and beautiful – I love the mountains and the ocean.
Shopping Queen 
I like going to the Kensington Market in Toronto where you can get really cool original things from Japan, and stuff like that. Most of my clothes I get from the States, but when I'm in Toronto I like going to Victoria's Secret.
Small Town Finds 
Pythagorio is this little place in Greece and, honestly, you can get the nicest shoes, amazing handbags and turquoise jewellery – it's a hidden gem.
It's a Dog's Life 
I can see the water from my house, so I like to go on my friend's boat when I'm home. I also hang out with my dogs: I have a Pekingese, she's so cute, everyone loves her. I made her a Twitter page and she has over 1000 followers – it's @CutenessChanel.  I also have Simba, who is a Pomeranian. They love getting their nails painted, they're hot pink right now – they are too cute!