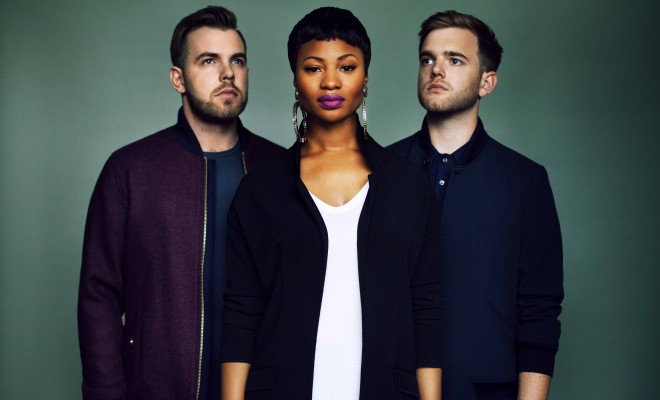 Interviews
Interview with… All About She
By
|
There's no doubt that 'Higher' is the tune you just can't get out of your head! Pride sat down with All About She, the London-based three-piece behind our favourite new jam, to talk collaborations and inspirations, guilty pleasures and getting tips from Tinie Tempah.
First off, congrats on all the success you're having with 'Higher'! How'd the song come about?
James: Well Jon and I had the track originally and when Vanya came in and laid down her vocals we realised instantly that there was something really strong about the track. I think it was the reaction of people around us – the label, management, they were all really excited by the track.
Vanya: It's always great when you love a track but it's nice to have your team behind you and saying they really loved it too.
One of the cool things about this track is that it's got this great up tempo, dance-y vibe but the vocals are so soulful…
Vanya: Yes! That's what we always try to go for because we really love soul music and R'n'B and that kind of thing. That's essentially what I grew up listening to and what I listen to now, same with the guys so it's something we like to bring in, but we add a modern twist to it.
Can we expect more of the same from your upcoming EP?
James: 'Higher' is just a little slice of what we are about. We're really into garage, so it will kind of be influenced by that, like, the dance movement…
Vanya: …but a lot of soul too. I listen to a lot of Jill Scott, Lauryn Hill, Erykah Badu…. so expect lots of soul too.
How did All About She get together originally?
Vanya: Basically it's because Jon and James used to make all these songs about girls!
James: Actually… Jon and I met years ago, we're both from High Wycombe, Jon was DJ-ing and I was helping to run an event and he sent me a tape of him DJ-ing. We stayed in touch and then Jon got some equipment and we'd learn together and even lay down some raps! It was like Jay Z flow… very nice to listen to.
Vanya: I was solo artist working on my own stuff when my manager introduced me to them. We started writing and working on production together and clicked, so we decided to become a group. No, the truth is I loved their name and wanted to steal it but I settled for being part of the group instead!
Well it's clearly a good fit, even Tinie Tempah's a fan. You're signed to his label, Disturbing London…
Jon: Yeah, it's amazing having Tinie in our corner. He's always pushed us to be the best that we can, so we can keep up with him.
James: We actually met him on MSN back in the day! We were at the stage where we were trying to get to the next stage, he was like, "Send me a demo" and then we were signed to Disturbing London.
What's he like? Mr. Nice Guy or brutally honest?
Vanya: No…he's not horrible. Obviously he's really busy so he's not there all the time, but when he is around he'll always be like, "Play me something!" and then he'll give you feedback.
Jon: Yeah, he gives advice in a constructive way and that's so important when you're trying to do music. You want to hear the truth, it's the only way you can improve.
So what is it that sets All About She apart from other UK acts right now?
Vanya: I think it's the soul element, and just the different things that the three of us bring to the table.
James: Without her saying it, I think it's Vanya's voice. Whatever song we make, you'll always know it's Vanya singing and that's really important. We can experiment with so many different areas of music because we will always have that distinctive sound.
Cool. So with the festive season coming up, what's on your wish list guys?
James: I'd really love an Arsenal season ticket. Anyone wanna hook that up for me?
Jon: Without a doubt, a Playstation 4.
Vanya: You know what I want? One of those really fancy mixers. I think it's called a Kitchen Aid. Oh, and can you throw in Lorraine Pascale with it too?
All About She's new single 'Higher' is out today