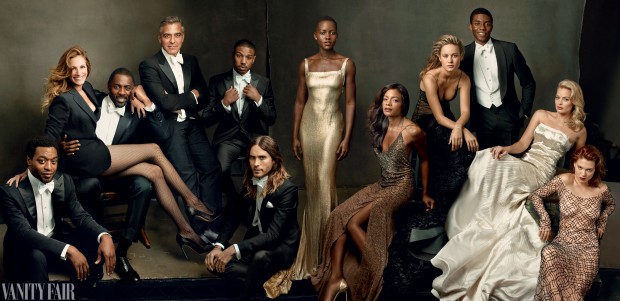 Entertainment
Vanity Fair honours Black Hollywood
By
|
Progress has never looked so good!
Images from Vanity Fair's annual Hollywood issue were recently released online and we were overjoyed (and surprised) to see so many black faces on the cover!
In what's being dubbed the publication's first ever 'colourblind cover', the magazine features 12 of Hollywood's hottest actors right now with both Idris Elba (Long Walk To Freedom) and Chiwetel Ejiofor (12 Years a Slave) taking pride of place on the front cover alongside George Clooney and Julia Roberts.
Vanity Fair has come under fire countless times in the past for its failure to represent diversity in the film industry. The 2010 Hollywood issue in particular, was criticised for featuring an all-white roster of up and coming actresses. Clearly a lot has changed in four years, and not a moment too soon. Not only are two black British actors in Idris and Chiwetel featured on the cover, but a host of other talented black actors have also been honoured including: Lupita Nyong'o, Chadwick Boseman, Naomie Harris and Michael B. Jordan.