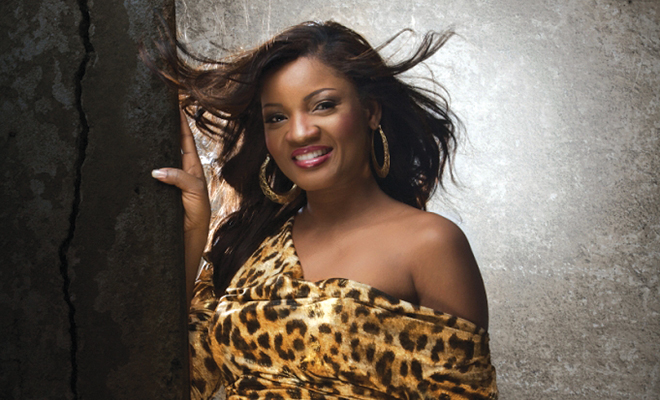 Entertainment
African Queen
By
|
It's not every day you're granted an audience with royalty. Nollywood royalty that is. Gloria Ogunbambo sat down with one of the biggest stars of Nigeria's film industry, Omotola Jalade Ekeinde, to discover whether the glitz and glamour of Nollywood is all it's cracked up to be.
It's a world where a woman, propelled by a heady mix of venom, jealousy and desperation seeks out a witch doctor and buys a love potion in order to steal away the affections of a rival's lover. It's a world in which a man goes to extraordinary lengths to cover up from his wife the fact that their houseboy is the consequence of an ill-advised tryst he had many years ago. It's a world in which a solitary curse uttered from the lips of an angry mother is sufficient to strike mortal terror into the heart of the daughter-in-law foolish enough to challenge her authority. Quite simply, it's Nollywood. Affectionately known as such to the millions of African denizens ever waiting for their next fix of outlandish and intensely absorbing cinema, the Nigerian film industry is a half a billion dollar machine responsible for producing in excess of a thousand titles per year, making it third only to Hollywood and Bollywood in terms of revenue. The fact that Nollywood movies remain largely unseen outside of mainland Africa has done nothing to halt the industry's rapidly growing popularity and has seen stars from many of the flicks catapulted to A-List celebrity status. This has been the delicious fate of top Nigerian actress, Omotola Jalade Ekeinde. At 34, she's already starred in over 200 films and holds the distinction of being one of the highest paid actors in the industry…
You're no stranger to these shores, how are you enjoying London so far?
It's great! The people I meet and my friends who live here always make it a fun time for me. Plus, living in Lagos means that the hustle and bustle of the city is familiar to me.
 
You're such a high profile actress and your reach has extended beyond Nigeria and Africa all the way to the UK and the Caribbean. Are you shocked by it?
No it doesn't shock me. Or I should say it doesn't shock me anymore! The last time I had a moment where I had to really take stock of the situation was years ago in the States. I think I was in Baltimore doing an appearance and there were lots of people waiting to see me. It was so crazy that the police were there! That's the only time I've ever been slightly worried and said to myself, "Wow. This is no joke!"
It's fair to say your big break came playing a sickle cell patient in Mortal Inheritance, one of the biggest Nigerian films of all time. Was Nollywood always the dream?
No. If there was any kind of career path I really wanted to follow, it was music. Acting just happened. I went along to an audition with a friend and she didn't get the part. As we had travelled a long way I decided to give it a go and I was offered a part in the movie. I didn't actually do it as my mother forbade me. Back then being an actress in Nigeria was seen as more of a curse than a blessing: you were perceived as wayward, a dropout or an easy kind of woman.
Obviously you disobeyed her but luckily it's worked out for you. Nollywood has exploded since then. Can you begin to explain the success of the industry?
It's a mystery. Often our films aren't shot with the best equipment: the lighting is bad, you can hear traffic and the ceiling fan in the background! Sometimes the plots are too farfetched even for us. I think a lot of people love the fact that Nollywood stories are dramatic and that the acting is very real and expressive in comparison to the stiffness of Hollywood. It's raw and unique and I think people find that endearing.
Another interesting thing about Nollywood is that it really provides a platform for female actresses to shine and at times even outshine their male counterparts…
This is definitely something I think about. I'm so grateful of what we women in the industry actually have. We're afforded the opportunity to play such diverse roles and are really given the opportunity for our stars to shine bright. It helps us and in turn helps the industry. There is no conflict between female and male Nollywood actors –you're only as strong as your fans want to make you. I'm sure sometimes they [male actors] do wish that people would take to them as much as they do us, but there is no rivalry. They're great too.
You're an inspiration to a lot of Nigerian women. Who inspires you?
Do I sound proud if I say no one? It's no secret I'm a big fan of Beyoncé because she's got such a strong work ethic but I'm my own role model. I compete with myself.
Like countless women, you juggle your career with being a wife as well as a mother of four. What's your secret?
What's the secret? If someone finds it, they should tell me. Me? I don't even know! I have to give a lot of the credit to my husband as if I didn't have a supportive spouse, life would be extremely difficult. He prides himself on being a "new generation of husband"! He's the one who's with the children most of the time and I know that no matter how strong I am, if I didn't have him as a foundation I wouldn't be able to do this.
10 million people across Africa are expected to tune into your new reality show The Real Me. Nervous?
I'm not perfect and I don't claim to be. People always ask me how I got to be where I am today, so now I'm going to show them. It's not always glitz and glamour; there are some moments that are entertaining but also some that aren't so pretty. I'm a private person generally, but no I'm not afraid because I have nothing to hide.
Lastly we have to talk about your infamous nickname "Omosexy". Where did it start?
Oh, it's a silly thing my husband used to call me that got out of control! He bought me a car and put that as the license plate and the media picked up on it. It's funny, I've bumped into people during flights and even men of God who've said, "Hey Omosexy! Omosexy!" to get my attention!