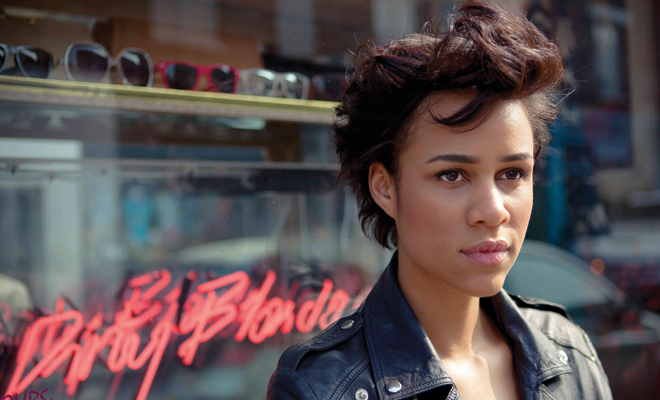 Interviews
The 'slasher generation' queen
By
|
Actress and playwright Zawe Ashton shot to fame in the hit Channel 4 series Fresh Meat. The queen of the 'slasher generation' speaks to Pride about why she could care less about celebrity, the travails of mixed race actors and counting Idris as a mentor. By Gloria Ogunbambo.
"You forget how much it takes out of you!" exclaims Zawe Ashton as she sits down and settles in opposite me. She's talking about moving of course – her current big project. Despite having been firmly thrust into the public eye, bewitching critics and picking up awards along the way, as a by-product of her brilliant turn as the streetwise, drug-addled, and frankly bonkers Violet 'Vod' Nordstrom in Channel 4's immensely popular Fresh Meat, she won't be forking out for a country pile just yet. "I'm literally just renting in Hackney – nothing exciting. I'm N16 born and bred."
I meet the 28-year-old actress at a member's club right in the heart of London's West End and she immediately asks me to remind her that she's got to head to a dress fitting after we're done, just in case she forgets. After speaking to her for a couple of minutes, I can see why. Zawe's like a freight train – once she gets going, she's pretty hard to stop. Not that you'd want to. She's extremely expressive: rolling up the sleeves of the oversized checked Burberry shirt she's wearing to free her hands; and self-deprecating, contorting her face comically at the mention of anything that sounds remotely like a compliment. She's also remarkably chilled out and engaging for someone who's just done a stint in prison. Just to clarify, she wasn't in there for breaking the law. The mixture of pride and enthusiasm is thick in the air as she discusses a play she wrote as part of her work with Clean Break, an all-female theatre company that rehabilitates ex-offenders through the arts. "I wrote this play called There Are Mountains, centering around women and mental health issues. The head of theatre, Lucy Morrison, commissioned it and I spent a day a week for six weeks in an open prison in York working on it with the residents. It was groundbreaking; the first time a paying public audience has come into a prison to watch a production.
As an actress, Zawe is hard to pigeonhole, which we both agree only works to her advantage. "The people that always stood out to me at drama school were the ones who were most versatile." Thankfully that chameleon-like quality is one that Zawe possesses. In what is arguably her most powerful performance to date, she garnered much acclaim, and deservedly so, for a poignant portrayal of Joyce Carol Vincent (the woman who's death in 2003 went unnoticed until her body was found in her flat three years later) in 2011's Dreams of A Life. "Something came over me and I knew that if anyone said, "Don't do it" I would have had to say, "Sit down please." It's the first time that instinct, confidence and belief in a project all came together." It's a talented actress that can juggle both comedy and serious drama without dropping the ball. I put it to Zawe whether this was a conscious decision or whether that's just how her career has panned out. "It's a gut thing: I feel sick when I repeat myself. There's a level of activism that I like to exist in a role. I read scripts now and ask myself,"Is this taking us forward?" Perhaps that's why her role in Fresh Meat has proved to be such a revelation. "Someone said to me "What I love is that she's just a person who happens to be you." She's not gender or race specific. At the casting there was no type; it was literally just let the best person for the job, do the job. That's the way it should be. I don't feel she's token or filling a criteria. I never have to feel responsible for how she's portrayed. I can just do my job – it's freeing."
It's unlikely that Zawe's successes will go to her head. I mean, any woman who can hold it down when Idris Elba makes a personal request to work with her, is probably good. "When he called me, I was in New York eating ice-cream. He's so cool; it's hard to be starstruck. We're working together on a BBC project that I can't talk about. Did you know there's an estate in Hackney named after him? Elba House. That's what I want! Zawe Walk or maybe Ashton Alley – something with a little pond." As she opens up about her background, it's evident that if her head ever did start to inflate, her family would be more than happy to stick it with a pin. For someone in showbiz, she's distinctly, well…not. "'Fame' and 'star' are words I would never go near! I was at my parents' last night and I was just thinking that my life is this amazing mixture." The product of a Ugandan mother and English father, Zawe (rhymes with Howie) is short for 'Zawedde' meaning 'princess'. "I went to Uganda last year for my Jaja's 80th birthday. It was a surprise party and when she saw everyone she was like, "Oh God, somebody died!" That's such an African thing isn't it? That drama."
Keen to avoid every actor's worst nightmare: being typecast, Zawe acts as well as writes, choosing to be proactive rather than twiddle her thumbs and wait for plum roles to fall into her lap. "My writing started off as completely responsive. I've played a lot of assassins, muggers and young black prostitutes but you don't want that forever! To create words, to me, is the highest power. When am I happiest? When I'm acting. Being alone in that writing cave is no joke; it's the way of the Samurai – lonely and very hard. But when I have a script in front of me that I've written, no one can take that away from me."