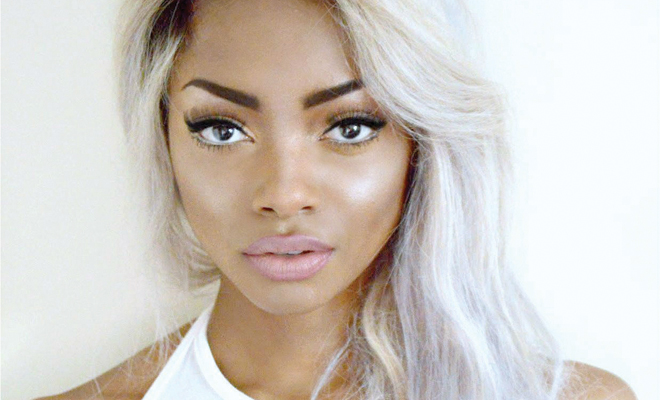 Fashion
Nyane Lebajoe
By
|
Recording artist, fashion blogger and designer Nyane Lebajoe opens up her little book of secrets. By Shevelle Rhule
Sunkissed Skin:
I swear by my Illamasqua Liquid Base Foundation, which livens up your complexion. I also use the Bronzing Duo; highlighting and contouring are so important to my make up routine.
LDN Town:
I usually go out in Brick Lane as it has a wide selection of bars, but I particularly stick to The Big Chill Bar. Every other Sunday I'll meet up with some friends for a couple of drinks or food, its lovely and they always play jazz, which is really relaxing.
Feeling Thrifty:
My twin and I have been thrift shopping for a long time now, as you find the most unique stuff. My last buy was a cute little Prada purse from the 90s. I've also recently been collaborating with O-Mighty (O-Mighty.com) a clothing brand that sell crop tops, mini skirts etc. in various sizes.
Good Day:
A little hang out spot we go to with some friends in SA is called Good Times, its really nice for socialising. My mum is from a rural area in Lesotho, which is really far from central Maseru. It's so lovely to get away from the chaotic city and enjoy this calm and peaceful village, plus it has a fantastic view from the mountains.
Gem Finds:
There is this little vintage store in Southampton central called Beatnik Emporium, it's got cute little one-offs you won't find anywhere else!
Royal Caribbean:
I love Turtle Bay Caribbean restaurant, mostly because it's so exotic and reminds me of home. It has a totally different environment to most restaurants I've been to, and the food is divine! I love to order the jerk glazed salmon fillet and finish it off with a Beach Comber Zombie cocktail!
SA Delights:
I'm from Lesotho, South Africa, and when I visit I always go to Lesotho Sun Hotel. It's got amazing views, the best cuisine and incredible entertainment. It's excellent and makes me appreciate my culture even more.