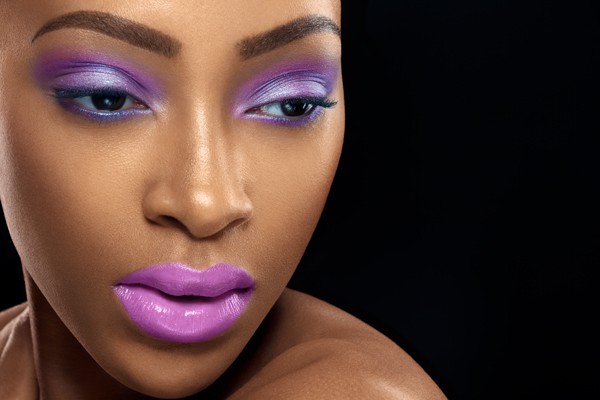 Beauty
The Bold, the Bright, the Beautiful
By
|
Purple, blue, green and pink's – colour is bolder, brighter and stronger!
Photography – Abi Oshodi www.ao-photography.co.uk
Makeup – Joy Adenuga using Cosmetics à La Carte London www.joyadenuga.com
Model – CherQC
Pantone Punch

This look was inspired by the current pantone colour of the year – Radiant Orchid. Have fun by mixing different shades of pinks, lavender and purple to create a gradient colour effect with the lightest on the lid and darkest shade on the crease. Try using Ritual 4 Colour Eyeshadow Amethyst Collection (£23.50). This shouldn't be limited to eye shadows, pigmented blushes also make amazing eyeshades. Lips was custom designed by mixing a baby pink lipstick like MAC Pink Pearl Pop (£15) with MAC Heroine (£15) a bright purple lip shade.
Colour Clash

Begin by smoothing a primer like Cosmetics à La Carte Rose Dew (£35) all over the face with your fingers. Then add Cosmetics à La Carte Skin Velvet Foundation (£38) which gives a demi matte finish and set with Nars Cosmetics Light Reflecting Loose Setting Powder (£25) for longevity. On the eyes, pat Cosmetics à La Carte Cream Shimmer Outliner in Peacock (£25) all over the lid as a base. From Sleek Cosmetics I-Divine Eye Shadow Palettes (£7.99) sweep the electric blue eyeshadow all over the crease, the sky blue over the lid and the medium shade blue between and then blend. Wet an eyeliner brush and use the electric blue shade as an eyeliner and wing it out. Finish off with the electric purple lip shade from Sleek cosmetics Lip 4 palette in Mardi Gras (£8.99).
Triple Set

As a base on the eyes pat on Cosmetics à La Carte Matte Outliner in Envy (£25), this will give intensity to the eye shadows. Then using Sleek I-Divine Eye Palette in the Garden of Eden (£7.99) apply the forest green over the crease and the mint green shade on the crease. Take a smudge brush and apply the deepest green under the lower eye for intensity and finish off with a lemon green shade and add to the inner eye for a pop of colour. To allow the eyes stand out, pair this with nude lips. Line lips with Lilalli Cosmetics Lip Liner in Greed (£10) and smear Lilalli Lip collision in Isabella (£15) a beautiful pinky brown lip shade, finishing the look with a clear gloss for a sultry pout.