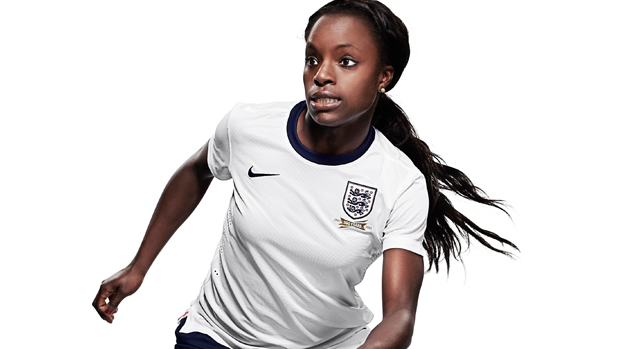 Careers
Meet… Eniola Aluko
By
|
Eniola Aluko is the Chelsea and England footballer, with a first class law degree from Brunel University, who was once described as the female Wayne Rooney – for her talent not for her looks! She lets Afua Adom in on the secrets to her success and balancing her love of the law with her passion for football.
I've played football since I can remember really; it's sort of in my blood. I was really talented as a youngster, I got scouted and came up through the ranks. Football has given me everything; it's given me a very colourful life, I've been able to travel and meet loads of different people. The woman's game hasn't always been as high profile as it is now so my parents were very keen on encouraging me to have a degree like law, and I have to say I enjoyed studying. It's great to be able to say I'm doing something very unique like combining football with law.
The unity of football inspires me so much – add to that the fact that it gives you opportunities I never thought possible. It doesn't really care who you are, if you're talented, you're good enough. It's given me a life. With law, which is completely different I realise, it's great to represent people who have interesting careers and it's a blessing that I've had that natural interest leaning towards law since I was a young girl. I enjoy being intellectually challenged as well. I think it goes with who I am.
I admit I've had to make sacrifices to pursue both of these paths at the same time. My social life has suffered to say the least, particularly at a younger age. From the ages of about 15 to 19 I had a lot of friends who were going out and stuff and I had to say, "Oh, I can't go I have football I have to go to training." But now my friends turn around and say, "I wish I had stuck to something, stuck to what I was doing, because you're doing such amazing things." I've also made sacrifices in my relationships, in my love life. Obviously travelling all the time makes it almost impossible to hold a relationship together. But I wouldn't change it for the world. It's a fantastic career and it doesn't last very long so you have to make the most of it whilst you're playing.
A footballer's life is a busy one! I'm semi-professional so I train twice a week and play on the weekends, we train in the evenings which allows some of the other players to work. But if you're in the national team like I am there's a program that you have to stick to in order to keep your fitness levels up. It's basically different things to do, so it might be sprinting one day, it might be light jogs another day. It's difficult for me because I have a job, but some other girls that work part-time and are able to dedicate more of their time to training. Me on the other hand, I have to train at lunch times and after work, so I ensure I maximise my time as much as possible.
It's great to be able to say I'm doing something very unique like combining football with law.
The season runs from April to October, we have away games all over the country so we travel as a team which is nice, there's great camaraderie amongst the girls and the League is really competitive this year. I play for Chelsea but we've not been doing very well lately, actually we lost the last three home league games, so it's a pretty crap time at the moment, but hopefully after the Euros we'll be able to start a new leaf and kick on to the second half of the season.
The Olympics was amazing, I mean it's something I'll never forget, and I just feel honoured to have been a part of it. It was great as well to see off the pitch the dedication that goes into all the sports, because for most of us we sort of live in a bubble and think football is the only sport that exists. It really gave me another perspective as to what hard work and dedication means, it was a really amazing experience, something I am really proud of. We've got the European Championships coming up this month in Sweden. It's a huge tournament for us, something that we can hopefully do well in and push on from 2009 when we got to the final.
The law firm I work for Lee and Thompson are really understanding about my football and see the value in having an international footballer working at the firm. It's an entertainment law firm so obviously there's a degree of synergy there. They expect me to work hard like everybody else and I'm not shy of that, so hopefully we'll continue to work that way and they'll continue to support my football career. There are so many things I enjoy about what I do. I think it's just the variety of my life. The fact that I've met some amazing people – I've met the Queen once – little things like that just make you think, "Wow, I'm so fortunate." The ability to inspire young girls is also amazing. It's nice when people say that their daughter was really inspired by me, things like that make the hairs on the back of my neck stand up. That's really valuable for me.
Hopefully in five to ten years time I would have won a major championship with the national team, I would have won the league with Chelsea of course and be a successful sports lawyer too. I want to look back on ten years time and say, "Yeah, I'm really happy with that."