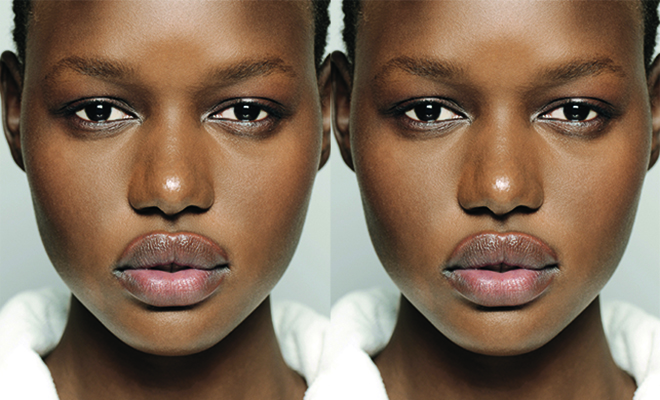 Beauty
Beauty on trial: No-Make-up-Make-up
By
|
This year saw a barrage of no-make-up selfies on social media, and of course having fresh skin for the warmer months is always a must. So the Pride ladies decided to test whether they would leave the house looking like they woke up like this!
The Pride ladies test out the latest beauty trends and questions whether they work on black skin?
Shevelle Rhule, Fashion and Beauty Editor:
Heavily applied contoured make up with over the top HD brows appears to be all the rage on my Instagram feed, but much more than a smear of highlighter down the bridge of my nose, some tinted moisturizer and blush is all I'm down for! Fresh, light, youthful make up is much more my cup of tea so the no make up trend appeared suited for me! Of course it takes some work to perfect this look with the help of corrector, concealer, primer, bb creams, eye brighteners and highlighters  to get the skin dewy and fabulous. I do love how great my skin looks although I must admit I miss the addition of some blush, mascara, eyeliner and a bit of lip colour. Perhaps I'm more of a made up girl than I realized!   
Afua Adom, Features Editor:
I'm a firm advocate of flawless make up starting with healthy glowing skin which is why I was super excited about trying the no- make-up-make-up look which is all about letting your natural beauty shine through. I'm perfectly comfortable going out without make up on (aside from my falsies and only during the day of course) but I must admit I was surprised by the amount of stuff slapped on my face to make it look make up free. From corrector to concealer it did take a little bit of work to get that "I woke up like this" truly flawless glow. I loved it though. I loved the fact the dark circles and bags under my eyes were gone, the fact that my funny beard like ring round my mouth was gone and I looked like my skin was just peachy and perfect. It's a look that may take a little bit of work but it's certainly worth it. 
The buys: