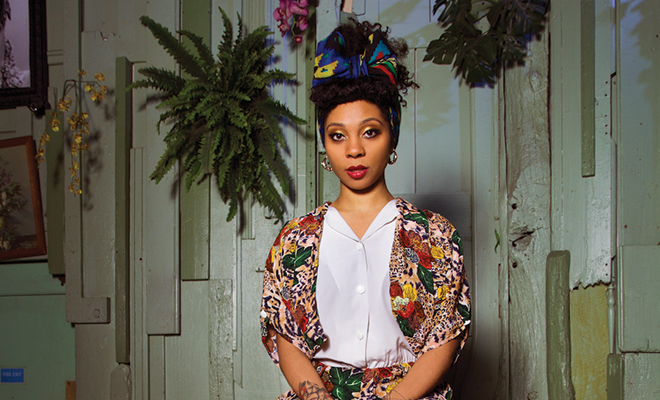 Entertainment
One To Watch: Hollie Cook
By
|
Who is she? Despite being the offspring of Sex Pistols drummer Paul Cook and former Culture Club singer Jeni, Hollie Cook's got zero time for pogoing or spitting. Instead, the impressively coiffed reggae songstress is all about delivering her cosmic vibes to the masses.
Check out… Her self-titled debut release, Hollie Cook on iTunes
I was never going to be a lawyer… much to my dad's dismay! I'm an only child, so I think my parents had fantasies of me doing something normal! I was never really interested in school and at 15 I decided I wasn't going to university. I'm sure they were a bit disappointed but they were massively sympathetic.
'Tropical pop' is… a pretty accurate description of my music. It's funny because I said it really casually once and it became a 'thing'. My new album, Twice, has more of a psychedelic disco thing going on; it's very cosmic, tropical and vibey.
The most 'punk' thing I've ever done is… make a reggae album!
My dad was in a punk band so everyone assumed I'd do the same but reggae is where I feel most natural and comfortable representing myself musically. Do I have a punk mentality? I guess so. I'm not phased by others people's opinions or preconceptions.
I have loads of memories of being in the back of the car with my parents, listening to music…  it could have been anything from other punk bands like The Buzzcocks, Subway Sect and The Slits, or Dusty Springfield, Dolly Parton, Celine Dion and Barbra Streisand. I loved musicals like Bugsy Malone, Grease and Oliver as a kid so I listened to a lot of musical soundtracks. I went through an angsty metal/rock phase in my teens but then again I also listened to Usher and Mariah Carey.
You might be surprised to know…  I used to be a really good tap dancer! I danced for 10 years and the other day I suddenly got this urge to start learning again so I bought a second-hand pair of tap shoes off Ebay. It's the whole Bugsy Malone thing all over again!