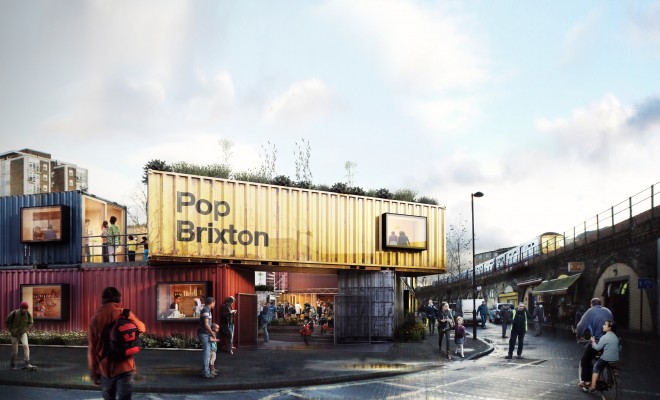 News
Summer Hotspot: New Brixton 'Box Park'
By
|
'Brixton Pop' opens it's doors later today. The 'Box Park' style venue is set to be a hub of the community and a hotspot this summer. Much like the famous Shoreditch venue Pop Brixton is a space built from storage containers, however they've take in a step further, building a large indoor performance space to accompany the mall of bars, food vendors, and retail outlets.
The 'Pop Brixton' space has been designed to bring economic and social wealth to the local area, and also to create great green and outdoor space, as an integral part of the project has been including new plants and the building has been designed to create a courtyard style opening.
With Brixton already established as a foodie destination, and a centre for socialising, 'Pop Brixton' will cement those credentials by bringing even more variety, alfresco dining and boutique retailers all in one interesting and sustainable quirky environment.
We are particularly excited to visit Zoe's Ghana Kitchen, who have taken a permanent residency at 'Pop Brixton' serving up their
With all of the turmoil in Brixton with the famous market being sold off and issues of gentrification, 'Pop Brixton' marks a fun and beneficial reprieve, but will no doubt continue Brixton's growing reputation as "the new Shoreditch" and bring all that comes along with that.
For more info on the line up of music performances and events for the soft launch of 'Pop Brixton' this weekend visit www.popbrixton.org