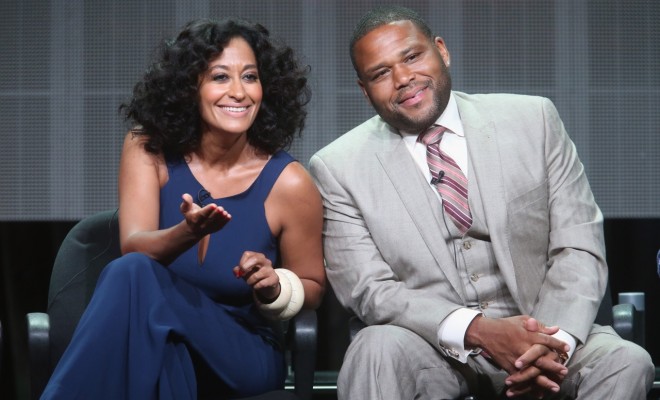 Entertainment
'Black-ish' stars to host BET Awards 2015
By
|
BET today revealed Anthony Anderson and Tracee Ellis Ross will be the hosts for this year's "BET Awards" 2015 airing in the UK on Tuesday, 30 June at 9pm on BET.
While Black-ish has not yet found it's way to our shores on TV, we've all heard the rumblings about just hw great the show is. In an interview with Pride last month Taraji P Henson revealed that Black-ish is the only show that makes her actually laugh out loud! If that isn't testament enough to the serious funny Tracee and Anthony wield together we don't know what is!
Tracee is on a real roll at the moment, along with the huge success of Black-ish and a string of seriously enviable red carpet moments, she appears on the cover on The Hollywood Reporter alongside the other female comedic heavy weights (Lena Dunham (Girls), Gina Rodriguez (Jane The Virgin), Amy Schumer (Inside Amy Schumer)) changing the tone of comedy and pioneering funny feminism through great TV.
"Not only am I excited to be hosting the 15th annual BET Awards alongside my on-screen hubby, but I am so honored to also be a nominee!  The BET Awards always deliver an epic evening with the best of the best across movies, sports, TV and music," said Tracee Ellis Ross.
"I look forward to the BET Awards every year! Tracee and I are going to have so much fun this year celebrating 15 years in black entertainment television," said Anthony Anderson. "I can't wait to see all of my peers and the amazing performances that evening.  We may even have a few surprises up our sleeves!"
"We can't think of a better way to ring in 15 years of BET Awards than with the talented on-screen duo of Anthony Anderson and Tracee Ellis Ross as our hosts," said Stephen Hill, BET's President of Programming. "They are both comedic geniuses and we are ready for them to unleash the laughter and good times on June 28. It will be a night to remember!"
Watch the BET Awards in the UK on Tuesday, 30 June at on BET (SKY 187 / VIRGIN 184 / FREESAT 140)