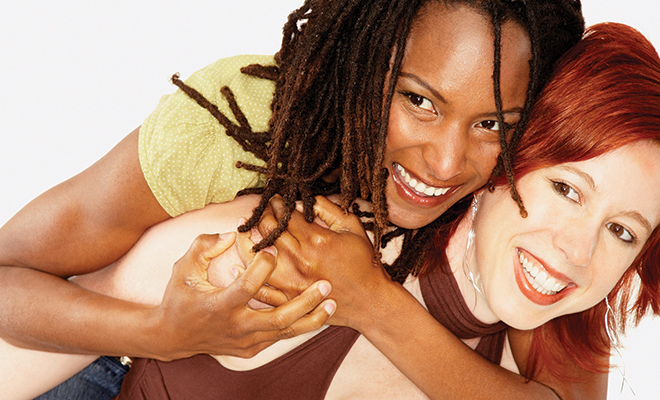 Health
LGBT Adoption: Becoming parents
By
|
Reece and Paula are a lesbian couple who have been in a committed relationship for the past 11 years. Reece is of white American descent and is now a British citizen. Paula was born in the UK and is of Nigerian descent. They were approved by a West London Adoption and Permanence Consortium agency and have adopted a boy named Rio aged 23 months.

How long had you been thinking about adopting together before you decided to make your first enquiry? 
PAULA: We both grew up with a strong desire to be parents and it is something we've wanted to do as a couple for a long time. We started thinking about our options a few years ago and eventually decided on adoption in 2011.  We did lots of research into the process and finally decided to push ahead in 2012.
REECE: We made our first 'official' enquiry in March 2012 and were invited to our agency's adoption information evening a few weeks later.

Why did you decide to apply to adopt with a West London Adoption and Permanence Consortium agency? 
REECE: We did look at other private adoption services but felt more assured applying to a consortium member because of the number of children available to them.

Did you feel welcomed by your agency when you first enquired and went on to apply? 
PAULA: To be honest I did have reservations about applying to adopt as a lesbian couple. I have read so many negative things regarding prejudice towards gay and lesbian people wanting to adopt. All these fears evaporated when we attended the information evening. We found the adoption team to be very open and welcoming to us.

What other support have you received since being approved and having a child placed? 
REECE: We have enjoyed attending the Adoption Support Groups organised by the West London Adoption and Permanency Consortium, the adoption picnics and  annual Christmas parties. Our little boy was aged 13 months when he was first placed with us and he will be 2 years old in a couple of weeks. Our agency has been very supportive and we know we can ring them at any time, should we need any guidance and support.

What would your message be for gay and lesbians couples who are thinking about applying to adopt? 
PAULA: Do it! But you do need to be clear that this is what you really want and that you are ready for this, as you will be responsible for a child's life for life.
REECE: I cannot imagine life without Rio, he is a bundle of love wrapped up in a little boy. I definitely recommend that other same-sex couples should consider adoption.
PAULA: It will probably be the best thing you ever do. It's important not to believe all the negative issues about adoption, as it's been a very positive experience for us. Many people will be surprised by the amount of gay and lesbian families that are adopting children and the huge amount of support available. Being a lesbian adopter opens a new door to a different aspect of parenting. For LGBT parents it brings about a completely new dimension.

The West London Adoption and Permanence Consortium are proud to work with New Family Social. newfamilysocial.org.uk
For more info about adoption visit adoptionwestlondon.org