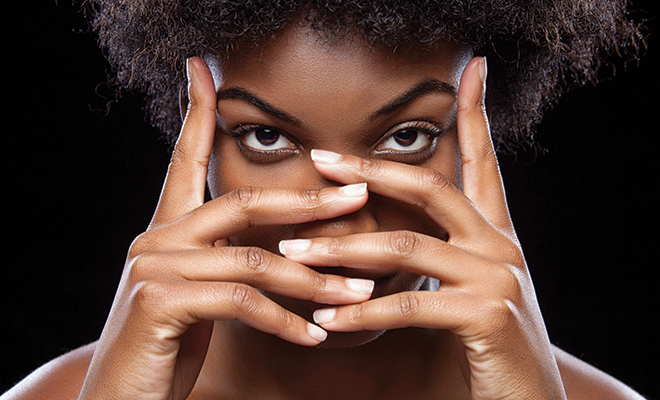 Health
How Far Would You Go To Be Beautiful?
By
|
Go on admit it – beauty is so important to so many of us. But just how far would you go to get your ultimate ideal? We take a look at the newest, hottest and most out-there beauty treatments on the market. By Afua Adom
Celgenics Couture Facial… works at a cellular level to promote repair and renewal, using specific acupuncture points and Ayurvedic plumping techniques to lift and tone the face. A bespoke blend of skin elixirs and low-level light frequencies restore and boost cellular energy to create a non-invasive facelift. Results include the softening of lines as well as tighter and plumper skin. On a cellular level, the Celgenics Couture Facial can improve lymphatic drainage, increase the detoxification and oxygenation of the cells and boost collagen production.Celgenics is informed by the therapeutic work of Marian Bourne, a Craniosacral practitioner, Nutritional therapist and Clinical Kinesiologist with over 20 years of clinical practice. Her experience has led her to a deep understanding of the healing and transformational effects that can be achieved through homeopathy, nutrition and vibrational energy medicine. The 90-minute Celgenics Couture Facial  at COMO Shambhala Urban Escape costs £160 per person. For more information or to book, please contact 020 7447 5750.
Laser Hair Removal…Are you tired of time-consuming and expensive solutions such as waxing and shaving? The Premier Laser Clinic offers a great alternative so you never have to worry about hair removal again. Unlike Intense Pulse Light (IPL), the laser beam is made of precisely controlled pulses of energy; it is absorbed by the melanin or pigment in the hair and reaches into the hair follicles that lie beneath the skin. The energy heats the hair right down to the bottom of the root, safely destroying it without damaging surrounding tissue of the skin. For more info go to londonpremierlaser.co.uk
Introducing the latest Slendertone Face… the anti-ageing secret weapon that tones and lifts the facial muscles, helping to reduce the atrophy of facial muscles from the ageing process – enhancing your beauty, giving you better contours, smoother looking skin and a more youthful appearance. It harnesses innovative EMS technology (electronic muscle stimulation) to naturally and comfortably stimulate the muscles of the face. Now more relevant than ever, it meets the demands and consumer needs of the 21st century woman, it's more affordable and features the programmes you need to achieve beautiful, radiant skin and renewed confidence. Slendertone Face is available for £149 from slendertone.com
NeoGen™ Plasma Skin Regeneration… This the newest treatment to launch at McIndoe Surgical Centre in East Grinstead, headed up by Dr Mark Holmes which has been clinically proven to regenerate skin remedying a number of common issues.Energist the makers of NeoGen™ say it is "a dramatically different, safe and clinically proven treatment which uniquely utilises the latest 'plasma' energy to revitalise your skin. It is the first and only cosmetic treatment proven to deliver true skin regeneration, providing remarkable and long-lasting results." NeoGen™ works by targeting the skins architecture and alters the structure below the surface regenerating at the deeper layers. The outer layers are preserved by the plasma acting as a natural protective dressing until your new healthy skin is ready. For more info go to mcindoesurgical.co.uk 
A revolutionary peel… which can transform your skin leaving with you with clear, glowing and younger looking skin is here! The Perfect Peel is now listed as one of the most requested facial peels and is virtually pain free. The process takes less than 15 minutes and can be used on all skin types, giving you astonishing results in just days. Amongst other benefits, The Perfect Peel has been shown to reduce the signs of aging including wrinkles, fine lines and pigmentation as well as sun damage and acne. Performed by a fully trained medical professional, the peel founds itself on a key anti-aging ingredient never used before in a peel- Glutathione. Glutathione is the ultimate antioxidant, penetrating deep into the cellular level of the skin to fight oxidant damage and is the anti-aging answer to premature wrinkling. Our bodies naturally produce glutathione but as we age, our levels deplete due to sun exposure, air pollutants, environmental stress and the aging process itself. Glutathione is also proven to reverse melanin's metabolism, lightening dark pigmentation. For more info go to theperfectpeel.co.uk
The Kalmora Spa… Based within the stunning coast and countryside of Kent, The Kalmora Spa from the Finders Health/Spa Find family combines the healing effects of Halotherapy salt breathing with the combination of mineral treatments sure to deliver results. It not only helps people who have allergies, asthma, bronchitis, dermatitis, acne, cystic fibrosis, sinusitis, psoriasis, dermatitis (and more); it also balances your natural cell metabolism and gives a fresher, younger more youthful look to your face. A brand new treatment to the regimes Kalmora Spa offers, Halodermie and their healing properties have been known for centuries. Discover the unique experience and benefits for respiratory and skin ailments of natural salt air therapy with Halodermie's most advanced treatments. Halodermie treatments are so good, experts are even saying salt baths can ease and prevent the pain of arthritis. For more info go to kalmoraspa.com