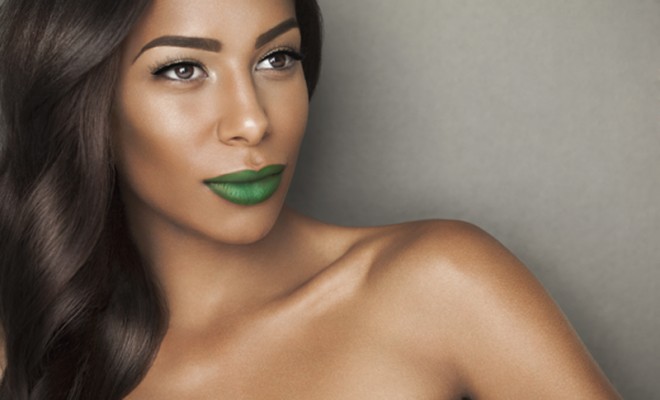 Beauty
Lost Into You
By
|
Get lost into the beauty of green, lime, jade and emerald hues this autumn.
Photography – Tracey Lea www.traceyleaphotographer.com
Makeup – Joy Adenuga using MAC and Dermalogica www.joyadenuga.com
Model – Chelsea Powell
Lips of Envy

Begin by moisturizing the face with Flori Roberts Enlighten Perfect Tone Moisturiser (£22.95) followed by YSL Touche Eclat Foundation (£30.50) buffed in. Conceal any imperfections with MAC Studio Finish Concealer (£15.50) and set with Laura Mercier Loose Setting Powder in Translucent (£10). Softly define features using Tom Ford Shade and Illuminating Cream (£56). Using a fluffy brush lightly dust a skin tone eyeshade all over lids and line just the top lip using Lancome Artliner (£20) followed by Eylure naturalites lengthening 116 strip lashes (£5.39). On the lips, using MAC Technakohl liner in Jade (£14) draw across the lip and fill in as well. Pat on matching eyeshadow across the lips to set and keep matte.
Green Remixed

Using Sleek Makeup I Divine In Ultra Matte V1 (£7.99), apply the forest green shade all over the lid to the crease leaving a space in the middle part of the lid, on that space apply the lemon green shade. Then using a stiff eye brush apply the blue shade under the lower lip for a contrast effect. Apply two coats of mascara and line the eyes very slightly. To allow the eyes stand out use a nude shade on the lips, line lips with NYX Long lip pencil in Cocoa (£2) and blend inwards then apply NYX Extreme Lip cream in Buttery Nude (£7) for a silky and glossy finish.
Smoked Green

Start by applying Maybelline EyeStudio Colour Tattoo 24hr Cream Gel eyeshadow in Ready set Green (£4.99) all over the lids for intensity and pat on the Teal shade from Tom Ford Quad in Emerald Lust (£63) all over the top lids and bottom lids. Smoke this out with a dark brown or black eyeshade from MAC (£13) in the crease blending across to the inner lid. Pat on a shimmery silver shade in the inner corner. Finish the eyes with layers of mascara or Volumised Strip lashes for instant Pow! Intensify the drama by lining the lips with MAC Lipliner in Redd (£12.50) and MAC lipstick in Russian Red (£15.50)