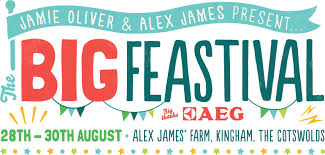 News
Big Feastival: Food, Family and Fun
By
|
This past weekend Jamie Oliver's very own food festival took over the great fields of Kingham for three days, filling the land with food trucks, farmer's markets, workshops, stage and so much more.
Pride magazine had the pleasure of attending the foodie wonderland on Saturday…
Arriving at Big Feastival circus like tents rise from the grass for miles ahead, the vast festival location is littered with food trucks, vendors and other foodie surprises. Greeted by a giant multi-coloured 'Big Feastival' sign as tall as me, a mound of hay just behind with small children climbing all over it and enough bunting for all of England, it is clear from the outset that this festival is more about good old country fun, than anything else.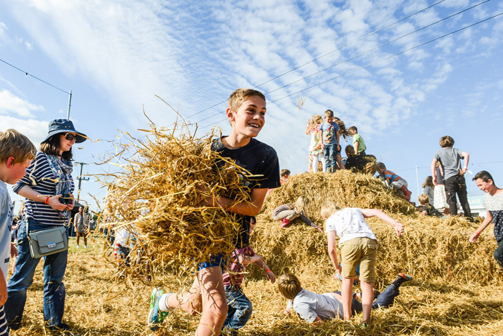 Before I could sample the many cooked delights, we wandered, soaking up the many possibilities on offer, and taking advantage of the many free samples, It was a good 10 minute of wandering, and marvelling at the brightly coloured wagons housing the youngest of the many families that had shown up wearing willies and eager smiles, before we realised we were yet to reach the main arena! Big Feastival managed to successfully build their own mini food villages with different sections dedicated to different foodie concepts- kids zone, healthy living zone,
This was clearly the dream day out for the middle classes of south east England- hunter willies and carefully spruced kiddies were as far as the eye could see, dads pitched up pop up chairs, mums took to the Lanson champagne bar or held tightly to their elderflower gin and tonics while children ran care free and frolicked among the hay bales, fair ground rides and fun characters.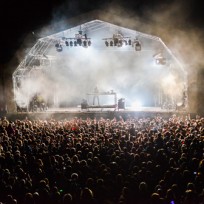 For our festival day out it was all about the feasting. We started the day with a huge helping of Annie Mae's Kanye Western macaroni cheese, because who can resist a Kanye pun? As the day went on we nibbled on Home made fudge and vanilla cheesecake brownies, watermelon infused lemonade, salted caramel ice cream, fresh fried Churros and stuffed our faces with Chipotle and Pop Dog's beef hot dog topped with chilli. When we finally took a break from eating we settled down on a patch of grass to witness the wonders of Ella Eyre's vocal range and later even stood for Dizzie Rascal's energetic performance on the perfectly placed main stage. If you were in any doubt about the civilised crowd this fare attracts, it is marked in a main stage where the audience are almost entirely seated on picnic blankets and camping chairs while they soak up the musical offerings. That is of course in the daylight hours when mellow acts like Iris Gold graced the stage, as the sun set and the acts got louder, things got livelier.
For those who take a more hands on approach to their food, there was also ample opportunity to bask in the great knowledge of great chef's at the Table Sessions for Q&A, or by watching the masters at work in the AEG Big Kitchen- which was like watching your favourite cookery show live. Or for those that arrived early enough you could sign up to cook along or grill along and learn by doing, and then by eating!
Big Feastival was a delight, free punnets of strawberries plucked on a nearby farm thrust into our arms, samples of ginger cheddar, and our highlight of the day- taking part in a pairing session with Sharp's brewery. Sharps's had a large and inviting wood and sand bar softened with large cushions and oversized deck chair, and decorated with a giant wooden crate in the corner. Pride was invited inside the crate to reveal a black velvet bar where we were introduced to the seldom explored marvel of beer and food pairing. With a five course Michelin star meal served in Alice in Wonderland size miniature bites on a slate board we retrieved from hidden compartments in the bar it was a multi-sensory wondrous exploration that left us converted beer drinkers.
Getting to the festival is surprisingly easy from London, even with engineering works and a limited service we were able to pull off a day visit, with the festivities in surprisingly easy reach of Kingham station.
Tickets are now on sale for 2016! Get yours here www.thebigfeastival.com