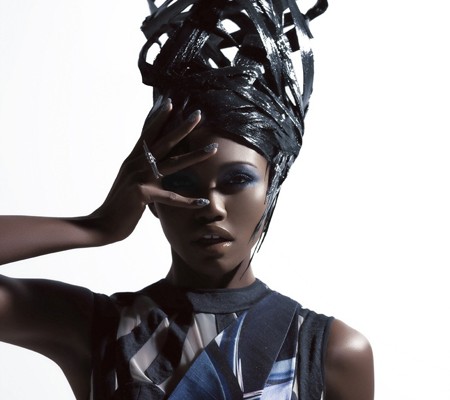 Hair
Futuristic
By
|
Look out of this world with these super creative styles!
Hair – Damien Carney, Joico International Artistic Director
Photography – Damien Carney
Hair Color – Sue Pemberton, Joico Vero K-PAK Color International Artistic Director
Make up – Miriam Vukich
Styling – Arturo Chavez
COSMOS QUEEN

For this highly sculptured look create hairpieces with dark and shiny strips of hair glazed with clear varnish to add a synthetic feel and to stiffen the hair. The strips are assembled and fixed into place to create curves and lines throughout the design.
Cotton Candy Tease

Create a funky avante gard look by using coloured hair of different shades and levels to create texture, contrast and dimension to the overall end design. Allowed the coloured hair to dry naturally before cutting the matted balls of hair into random small pieces and pulled apart, before being resembled on top of the hair.
SWEET VIOLET MOON

Get this look by colouring wefted hair purple and attached to a wig cap. Then cut the hair on the head, using a one-length technique. Finish by blow drying and flat ironed to create a super straight, super polished, graphic shape.
OUT OF THIS WORLD

Using short cuts of textured hair pulled apart the hair with your fingers before spraying with a light adhesive spray. Repeat the process until you have a full, voluminous, exaggerated shape. Then cut tresses in a strong rounded shape. The idea is that the shape looks irregular around the edges; curves and dents add an organic feel