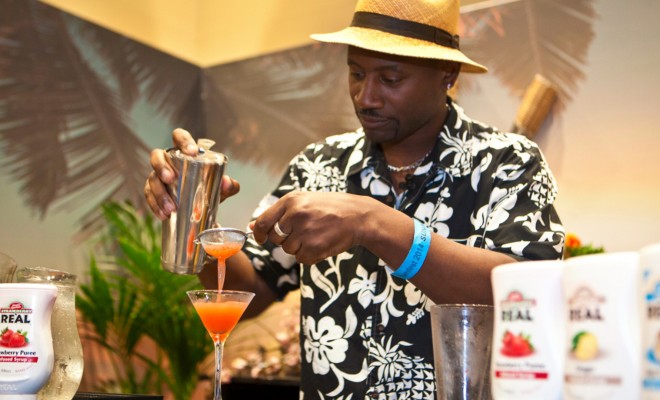 Entertainment
Review: Rum Fest
By
|
The UK's largest event dedicated to the celebration of rum kicked off with a bang! As soon as I arrived into the venue I was blown away by the joyous, cheerful and festive atmosphere, with a room full of bright colours, the smells of delicious Caribbean food along with upbeat lively music accompanied by voices of laughter from the large crowd.
There were up to 41 stands of experts awaiting my arrival which was very exciting if a little overwhelming as I wasn't quite sure where to begin! I was approached by a rum specialist who noticed by eagerness to try my first taste, to which he offered me shots of 9 and 12 year old Doorly's Barbados Rum. It was surprising that even as a novice I easily distinguished the the two on my first round; the 12 year old tasting quite sharp, where the 9 year old had a much sweeter and more distinctive flavour.
I was very happy that there was no restricted system; although there were certain timed seminars and events, overall the guests were able to roam around wherever they pleased and free to taste their chosen rums in any order they wished, which made the mood of the event very relaxed.
Although there were a lot of people, the amount of help provided meant that you were never left standing waiting for long and there was always a drink in your hand!
The event was filled with rum enthusiasts from different ages and backgrounds. Everyone was friendly, merry and happy to mingle which meant there was never a dull moment.
There were so many different tastes: spicy, sweet, strong kicks that made you squint your eyes, and beautiful blends of fruity flavours that forced you to smile.
One rum that definitely caught my attention was the New Grove Honey Liquor of Mauritius Rum. It was so sweet, delicious and flavoursome, especially for a straight 26% rum that had no extra fruits or mixers added to it as it was full of sugar cane spirits and natural honey.
A few other drinks that you should look out for are: The Lamb's Spiced Cherry Rum, an exotic spirit which is spicy with a fruity twist; The Duppy Share Caribbean Rum which is a smooth merge of Jamaica and Barbados rums; HeeJoy, an elegant mix of Guyanese, Trinidadian and Jamaican spirits with notes of ginger, honey and liquorice; Bacardi;Etke Spirits and Old Tiki Fire.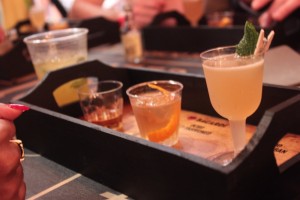 You will take away lots of recipes and trade secrets to show off to all your friends, which will leave you feeling like expert material. There are many different types of mixes to learn and try out on your own; you may even end up making your own unique blend because of all the new rum wisdom you would have learned from the event.
The rum fest has earned its title of the biggest event on the rum calendar in my estimation. They definitely achieved their goal to enable their guests to experience the nature of rum like never before.
It was fantastic seeing a mixture of not just first timers like myself, but also those that have returned for 6,7, and even 8 years running. As it was my first ever rum fest, I was an intrigued but excited newbie, and was thrilled to converse with people with such passion and thirst for rum.
Rum was definitely a favourite drink of mine, but now I am absolutely a convert to the potential taste and aromatic experience! It was a wonderful two day event which brought rum lovers all under the same roof to enjoy and learn so much about the rich spirit together. With thanks to Rum Ambassador Ian Burrel, I will definitely be coming back to the event next year, and recommend you do too.
Keep your eye out for 2016 tickets by subscribing to rumfest here.