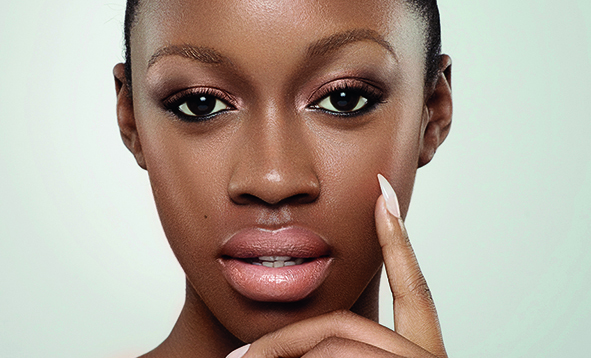 Beauty
Beautiful beginnings
By
|
Upgrade your look by mixing and matching contemporary looks with timeless elements.
Creative Direction, Make up and Words: Bolanle Okusanya Feyita using M.A.C Cosmetics
makeupproonline.com
Photography: Emil Lanos www. Emilanos.co.uk
Model: Jessica Williams
Nails: Hayley Miller using CND Shellac and OPI
Hair: Sharon Robinson
Budding Lips
Nude lips don't mean naked but sexy as if your showing a little flesh. The right shade will flatter your complexion and complement your natural lip colour without looking pale. Choose subtle tones of lippy like Shy Girl or Half 'n' Half by M.A.C (£15) or Rouge Coco Shine in Canother by Chanel (£24). Sophisticated brows frame the look – use the wax/gel texture of Brow Definer by Laura Mercier in Warm (£16) to keep each hair in place.
Smooth Operator
Apply a swatch of smokey eye with a transition from gunmetal to grey to blacks and softened with a navy blue. Try the darker Trio Eyeshadow Palettes from NARS (£33) and define using Dudu Eyrshadow from Tara International (£10). Fill lips with a light application of Cork Lipliner from M.A.C followed by Pink Cocoa Rich Colour Gloss (£18) from Bobbi Brown.
Sassy not Saucy
Define eyes at the top and bottom lip with Exaggerate Waterproof Definer in Noir from Rimmel London (£3.99). Extend the outer corners for a more feline, oriental look. Bring out the diva in you with vampy lips. Define with a rich dark grape lipliner like Wine by Tara International (£6) and fill in with a dark red like a blend of Cyber and Russian Red, both by M.A.C (£15). Go matte or semi-matte for a lasting effect.
Line out
On the lids, apply a soft wash of chocolate and copper tones with a spotlight in the center of the lid. Experiment with colours and formulas – gel, liquid or pencil eyeliners – for the perfect texture, shape and length for you. Try Ivy Shimmer Ink Gel Liner from Bobbi Brown (£17.50) on top of a vivid green eye pencil from No 7 (£9).