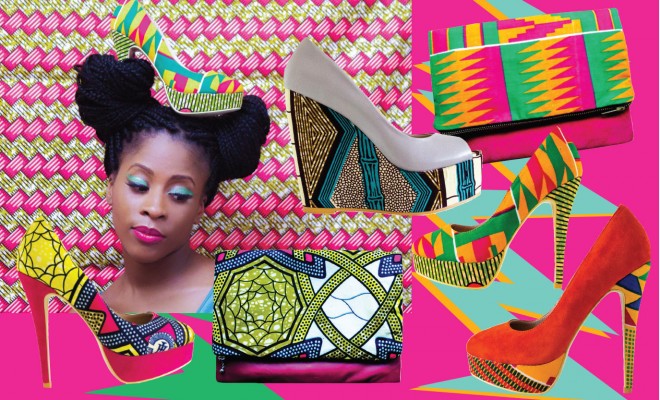 Careers
Me & My Career
By
|
Dionne Gooding Shoe and accessories designer
Dionne Gooding is a shoe and acessories designer from London, best known for her bold prints and exquisite detail. The self-made business woman tells Pride's Melissa Erasia how she broke into the fashion industry and made a name for herself.
If I had one word to describe my designs it would be 'vibrant'.  My designs range from custom-made wedges, bridal wear, wax print shoes and handbags.
I decided to go into this industry because I'm passionate about footwear, and like most women I love shoes. I have always been a creative person and started designing and making clothes for a number of years before I realised that footwear and accessories were the area I love most. When I was in my teens shoes were quite plain and boring, there weren't many exciting high street brands at the time and the only brands doing fantastic shoes were luxury designers which were way out of my price range, so I started to customise my own shoes. I did this for a number of years on and off as a hobby until I graduated. It was after graduation that I decided to take it more seriously, especially when colleagues and friends would ask me to customise their shoes!  It was then that I started to see shoe design as a career.
I registered with The Prince's Trust and embarked on a short course which highlighted key aspects of running your own business. As a creative person this was a real eye opener for me because it showed me that there were a number of other things involved in setting up a business other than design. Learning to be an all-rounder is a massive challenge.  When starting a small business it's not just about doing the fun stuff. I had learned to become an accountant, advertiser, administrator, logistics and  photographer as well as the designer. I have a small team so it's slightly easier now.
I think what sets me above other independent shoe designers is that I have an eye for colour which enables me to mix and match prints to create a stylish statement shoe. My brand is fun, modern playful and affordable.
When it comes to inspiration I would say Tamara Mellon of Jimmy Choo is up there, she has done an amazing job turning Jimmy Choo into a successful international brand. Also Victoria Beckham, I love the way she's grown from being Posh Spice to becoming a respected designer in the fashion world. Beyoncé as well, she is so hardworking, positive and inspiring. Solange has the bright, bold colours and prints which I love. Success in my eyes is working towards my dream and keeping it moving in the right direction.
Where did you study?
I studied Mixed Media Textiles at De Montfort University in Leicester and Shoe Making and Design courses at the London College of Fashion.
Your first job?
My first job was packing magazines and newspapers when I was still at school.
A career high?
Launching my first collection was a career high. It was nice to see everything I had worked on come together and become an actual product.
A career low?
My career low was wondering whether people were going to buy my shoes.
What is your ultimate goal?
My ultimate goal is to become an international brand known and purchased around the world.
What would be your Plan B?
I was a really good athlete at one stage before I was distracted by fashion. I reckon I would have stuck at athletics if I didn't develop a love for footwear design.
Describe a typical day in the life of Dionne Gooding.
Every day is different but the things I do religiously are updating my social media platforms, packing and posting orders, liaising with stylists, working on new designs. Other days will consist of fabric and leather shopping, visiting manufacturers, attending fashion events and meeting clients and potential retailers.
TOP FIVE TIPS FOR SUCCESS
• Be organised
• Manage your money
• Research your market
• Network
• Be persistent