Entertainment
Taye Diggs wants his son to embrace being 'mixed', not just black.
By
|
Actor Taye Diggs, and recent author to the children's book 'Mixed Me' was criticised on twitter after an interview telling 'The Grio' he doesn't want his son to disrespect his (white) mother's heritage by identifying himself as just black.
In a live stream with TMZ, Diggs said: "I want him to be proud of what he is, and I want him to … include both parents. I want my son to be able to choose what he wants to be referred to, I don't want him to have to dis-include his mother…"
For a child growing up and trying to find their identity it may be confusing to be referred to as only one of the two races that they know and love. Until they get to an age where they may or may not want to choose one or the other, society shouldn't be insensitive and make that decision for them.
Tiggs clearly isn't putting white over black, or denying that his child is half black – however he is emphasising that his child should be identified as both races and not just one.
He responded to the twitter critics by tweeting this picture: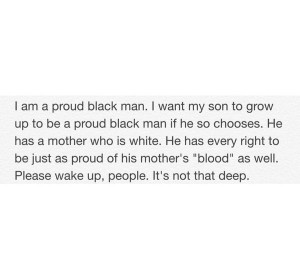 What did you think? – Watch the video above.