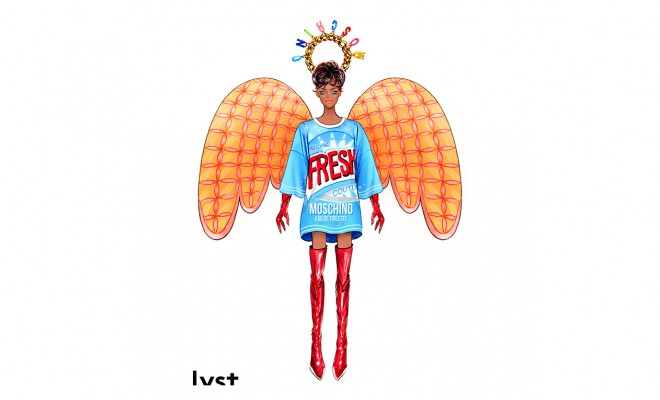 Fashion
Sunny Gu's Lystmas Angels Have Arrived For Christmas
By
|
The online fashion platform Lyst, has teamed up with the incredibly talented fashion and beauty illustrator  Sunny Gu in creating special Christmas angels purely based on five fantastic fashion designers – Givenchy, Matthew Williamson, Moschino, Proenza Schouler and Tibi. Each outfit worn by the Christmas angels were personally made inspired by the designers' unique style in order to create characteristics which represented them individually.
These incredible outfits are not only available to gaze at but to also buy as of today!
The most distinctive and challenging part of styling was the wings said Sunny, whilst having to take colours, patterns and designs all into consideration, she explained that the wings' silhouettes had to remain harmonious and able to unify the whole image.
Sunny Gu made sure that all the elements (accessories, outfits, halo, wings, styling) complemented each another and worked on giving the angels different bold personalities whilst at the same time being realistically fashionable.
Sunny Gu who was born in China and began living in the US when she was 13, has always been indulged with drawing vibrant colourful illustrations with rich detail. She explains that she bathes in happiness when she paints and hopes her illustrations bring joy to others too!
Buy all the clothes that these fashionable angels are wearing at Lyst, including the gorgeous accessories, Moschino's snazzy Fresh T-shirt and Matthew Williamson's elegant purple dress.