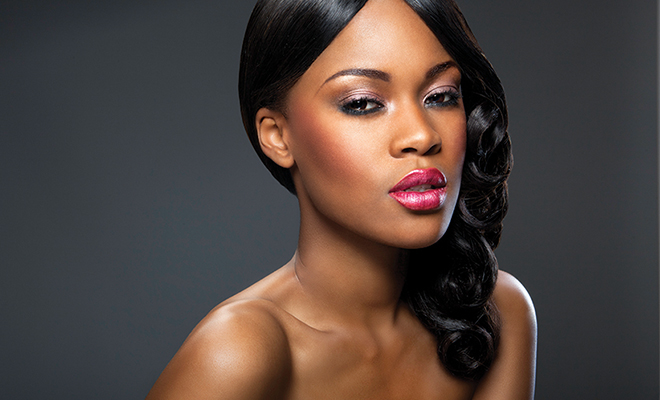 Beauty
Go Glam
By
|
Warm up your winter with gorgeous tones of gold, brown and pinks.
Photographer: Abi Oshodi   Hair: Angela Plummer
Make up: Valerie St-Amand using black Up Cosmetics
Simply Radiant
For a truly flawless finish start by concealing any blemishes with black Up Concealer Pen (£21.75) and then use your finger to dab Bobbi Brown Illuminating Finish Powder Compact Foundation (£29), adding radiance with black Up Sublime Powder (£23.75). Blend a pink eye shadow like Barry M Dazzle Dust in Pink Shimmer (£4.59) over the entire eyelid. Line the lower eye waterline with New Cid Cosmetics i-line Kohl Pencil (£13.50) and finish eyes with a black volumising and lengthening mascara like Clinique Lash Doubling Mascara (£15). Give definition to your cheeks with Bobbi Brown Blusher in Peony (£18). Lastly, make your lips stand out with black Up Lip Liner Pencil in CYL10 (£12.50) and black Up Fuchsia Lipstick in RAL31 (£14.50).
Touch Of Class 
Create super sexy eyes by applying black Up Eye Shadow in n33 (£13.75) on the entire eyelid using a large eye shadow brush. On the outer corner of your eyes add MAC Pigment Eye Shadow in Dark Soul (£15.50) to intensify them. On the lower waterline apply MUA Kohl Waterproof Pencil (£10) and add a touch of Barry M Dazzle Dust in Silver Iridescent (£4.59). On cheeks use a burgundy blusher like Illamasqua Blusher in Kiss (£16.50). Finally apply black Up lipstick in RAL11 (£14.50) and add a frosty beige lipstick like Nars Sheer Lipstick in Little Darling (£17.50) on the centre of your lips for a perfect pout.
All Eyes On Me 
Start by highlighting under the eyebrows with Illamasqua Pure Pigment in Incite (£15.50), applying all over the eyelid followed by black Up Eye Shadow n30 (£13.75) with a hint of black Up Glitter in PAIL04 (£13.50) to give eyes a stunning shimmering effect. Then, at the outer corner of the eyes, flick Laura Mercier Kohl Deep Black Pencil (£15) up and out and use the same pencil to line the lower waterline.
Smoky Beauty 
For beautifully contoured cheekbones highlight with Bobbi Brown Highlighter Pen (£25) and warm cheeks with Iman Luxury Blusher Powder (£14.50). Define under the eyebrow and over the entire eyelid with Models Own Cream Eye Shadow in Gold Pearl (£5) and blend a black hue such as Sleek Eye Dust in Outrage (£3.05). In the inner corner of the eyes apply black Up Pink Pearl Powder PP05 (£11.50) to create a captivating look. Keep lips natural with an application of Light Brown Lip Pencil from MAC (£10.50) and a smudge of Illamasqua Lipstick in Utopia (£15.50).