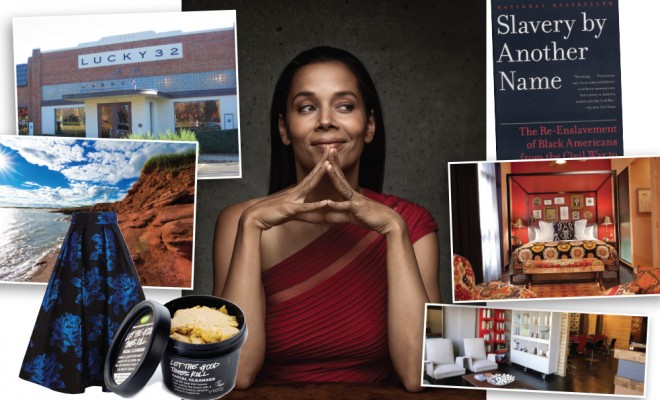 Fashion
My Little Black Book
By
|
Singer, songwriter, multi-instrumentalist and Grammy winner, Rhiannon Giddens opens up her little book of secrets. By Shevelle Rhule
Natural Elements: People always talk about how good my skin looks and I think part of the reason is because I don't wear make up unless I'm working, I like to let it be natural. I use Lush and I'm big fan of their facial cleanser and shower gel and I swear by Moroccanoil for my hair.
Southern Hospitality: When my husband and I can sneak away for a date night we always go to one place – Lucky 32's in North Carolina. It's Southern food but taken to a slightly higher level without being too frou-frou. Its really good quality and I always order the shrimp and grits. 
Fiddler on the Roof:  The country I really enjoyed going to was Prince Edward island in Canada. We really like places steeped in music with interesting communities, I'll get my fiddle and we go to jams.
Salon International: I love getting my hair done at a salon called Instinct in Greensboro, North Carolina. I always feel a bit pampered when they do my hair -–I get compliments on how good my colour is and how healthy my hair looks.
Talk Show: I split my time between Ireland and North Carolina – because my husband's from Limerick. When I have to shop for big TV shows, Brown Thomas has never failed me. I'm really into elegant things, I bought a Coast floor length black skirt with a metallic blue brocade pattern that I wore for Late Night with Jimmy Fallon.
Hotel California: I love to stay in The Redbury In LA – it has a little kitchen so I walk down to Trader Joes and get some kale, eggs and oatmeal and I cook in the room. There is also a nice little restaurant and club here – we had a big after party for The New Basement Tapes and Johnny Deep came.
Book Smart: I tend to read either really frothy stuff like Regency Romances because I'm a fan of Jane Austen or really heavy stuff like Slavery By Another Name, which is basically talking about post slavery in the United States.