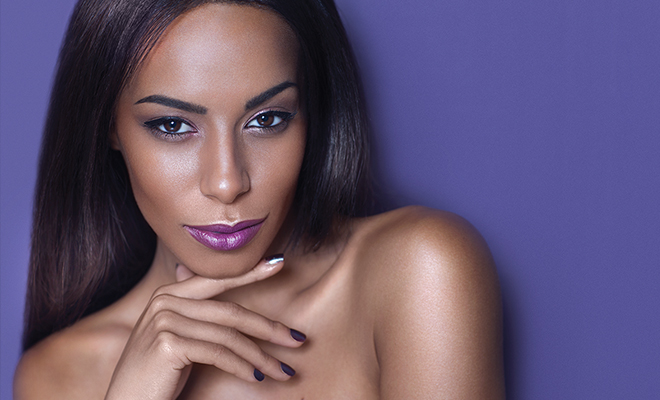 Beauty
Purple haze
By
|
Photography: Tracey Lea – traceyleaphotographer.com
Make up: Julia Jules using M.A.C
Model: Chelsea Powell
Post Production: MDF Retouching
From lilac to violet and everything in-between, make purple your make up colour of choice this winter.
Fandango Purple
Red may be the traditional lipstick to wear but a gorgeous purple lipstick with a hint of pink is this season's anti-red. Get this look by applying a luminous foundation from Becca (£35) and highlight with Yves Saint Laurent Touch Eclat (£25). Line eyes with a liquid liner from Revlon (£7.99) and define lashes and brows with Lancome Hypnose Full impact Volume Mascara (£22.50) and Rimmel Brown This Way Eyebrow (£3.99). Finally pucker up that pout and smear on M.A.C Heroine Lipstick (£15.50), a deep pigmented bright purple hue.
Mauve Over
Alternatively for a more winter savvy look, swap lighter lippies for this dark and mysterious hue. Give darker lip colour extra staying power by lining lips and base with M.A.C Lip Pencil in Vino (£12.50) and fill in with Illamasqua Lipstick in Kontrol (£18.50) with a touch of clear lip-gloss for extra shine.
Violet Dreams
Violet, lilac, mauve and purple all look amazing as eye shadow on deep skin tones. Start by applying a shimmering bronze eyeshadow like Bobbi Brown Shimmer Wash in Golden Amber (£17.50) over the lid and along the water line. Then in the corner add Sleek Make Up Eye Dust in So Sleek (£2.99). On lips add a pink nude shimmer such as Black Up Lipshine in 07 (£13.95).