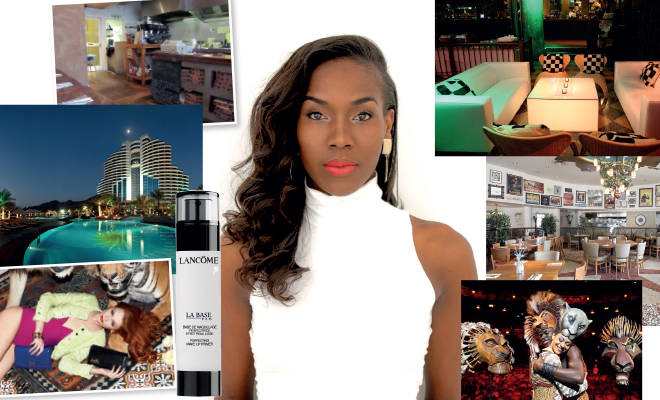 Fashion
My Little Black Book
By
|
On choosing your career path…"Do something that, when you wake up every day, makes you smile. Being happy is more important than anything else." Alesha Dixon
Homeward Bound: I'm such a home body so normally it will be luncheon or a dinner party – something a bit more low key as I like to be in a intimate setting with friends. If I do go out to eat there is a pizza place in Archway called Papa Del's. The best thing about London is they have all these tiny gems hidden away.
Gap Year: I've been travelling for three months through LA, NY, Houston, Atlanta and Washington DC singing in lots of different places. I performed at the R&B Spotlight which is quite a famous night, along with SOB in New York and in LA I sang at The House of Blues and I meet some great people like Ne-Yo.
Dubai Princess:
To this day I still love Dubai, I went when I was 18 – I won a singing contest and took my family there and literally fell in love. I stayed at the La Meridian where we had lots of spa treatments and went shopping at the Gold Souk, which was incredible and showed me a new way of living.
Cosmetic Fairy: I'm a massive fan of M.A.C and Lancome – of late I swear by the SPF15 primer. It takes off the shine but gives you a kind of flawless look so even if I didn't bring my foundation or mascara or anything I still can't go wrong.
Brum Notes:
I'm originally from a small town outside of Birmingham so if I want to chill out and meet up with a few friends back home the spot is always The Mailbox. I love the food at Red Peppers – they have incredible crab cakes, the caesar salad is really hearty, you get massive chunks of grilled chicken, Parmesan cheese, ice berg lettuce and the cocktails are ridiculous.   
Rhythm is a Dancer: I find if I go to the West End to see shows like The Lion King or Stomp, which are very, beats centric I tend to go home so musically inspired.
Retro Nights: If someone stops me in the street or a friend goes berserk over a jacket I've got it's normally from a vintage store. I just came back from LA and they had so many dotted around, one was called Retro and another was Rewind. I got some really nice old school Chanel dresses and crazy fab leather jackets with an African print that they were selling for next to nothing!