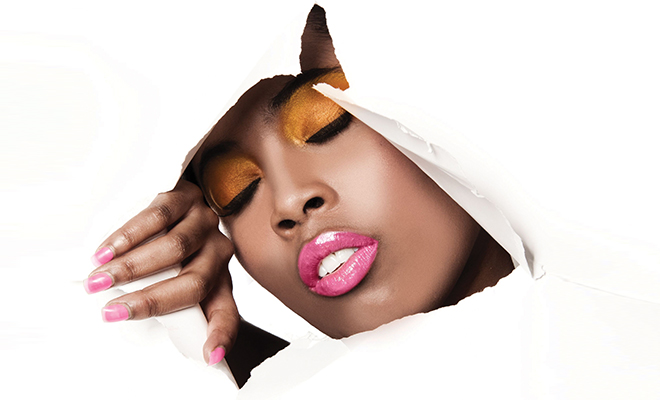 Beauty
The Secret to Looking Expensive at a fraction of the price!
By
|
Check out our cheap and inexpensive beauty tips from industry experts and celebrities. By Shevelle Rhule
Spot Control :
Got a spot? Crush up an aspirin and make into a paste with a tablespoon of water. Salicylic acid is used for spots in facial washes and is the cousin of aspirin. It basically works by drying out the spot. If you can't afford a microdermabrasion, go to your local beach (no joke) and pick up some sand to use as a mild exfoliating treatment. Or, try Nurture's skin brightening facial exfoliator for deep cleansing and a gentle microdermabrasion-like effect at only £7.45. Julie Brackenbury, Nurture Skincare's Cosmetic Nurse (www.nutureskincare.co.uk).
Million Dollar Smile:
Healthy, white teeth are a sign of success, wellbeing and money. To get your teeth cleaner, whiter and brighter book a hygienist appointment at £69 and follow with good home dental care (regular flossing and brushing), which will keep them white and costs nothing extra. Dr Mervyn Druian, Cosmetic Dentist (www.londoncosmeticdentistry.co.uk).
Healthy Thinking:
People always ask me about my hair, thinking there is some big secret, but what I do is actually quite simple. I wash my hair with a really thick conditioner like James Brown Intensive Conditioner and make sure to change the brand so my hair doesn't get used to it. Holly Quin-Ankrah, Actress
Luscious Tresses:
There are a few simple tips and tricks to looking like you have a million dollar locks without the price tag. A good tip is to invest in some good quality shine spray and mist lightly over hair to create locks that look healthy with a salon perfect shine. Another great way to keep hair looking pristine and in good condition is to deep condition your hair at least once a week. Karen Dodds, Hairdresser for Cutting Room Creative (www.cuttingroomwired.co.uk)
Give us a Twirl:
A new trick I learnt is if you want to maintain beautiful soft natural curls, get friendly with your diffuser and blast hair with warm air on a high blow for two minutes and then blow cold air on high for one minute. Alternate between the two and it will make your hair really soft, giving you beautiful loose curls with lots of body.  Tracie Elis Ross, Actress
No Worries:
Stress less – many people find that eczema and psoriasis can be exacerbated by stressful events or situations, as the immune, nervous and hormonal systems are all interconnected. Yoga, meditation or simply taking some 'you' time may help. Jessica Palmer, Creator of Qsilica Skin Care (www.planethealth\direct.com)
Cut & Colour:
Firstly, invest in a great cut – one that will work easily for you so you don't have to have it blow-dried and styled regularly. Secondly, invest in a great hair colour. You need to make sure it's the right colour for your skin tone and hair type and the main criteria with colour is that it can be easily maintained. So either, a great set of highlights that won't grow out too obviously or a colour that can be easily maintained at home. Paul Edmonds, Luxury Hairstylist
Brow Lift:
If you are looking for an instant face lift without the price tag, then try a brow treatment such as Billion Dollar Brows, which will give you that expensive look for just £25. A BDB treatment designs your brows with the patented tool the Brow Buddy, in order to frame and shape your face, which can take years off you. Kerie Hoy, Advanced Beautician and UK Master Trainer for Billion Dollar Brows (www.keriehoy.com)
Cold Awakening:
When you wake up in the morning splash your face with cold water to reduce puffiness.Gloria Ogunbambo, Pride Acting Features Editor
Beat Cellulite:
Try eating carrot, cucumber and celery sticks served with houmous. Celery and cucumber are naturally diuretic foods to help flush out trapped water and waste from problem areas to avoid cellulite developing. Victoria Wills, founder of premier weight loss retreat NuBeginnings (www.nubeginnings.co.uk)
Legs Eleven:
If your legs are looking a little bit tired, a sneaky way to brighten them up is to dust the front of your legs with a shimmer dust and shade the inside of your thighs with some darker bronzer. The result is legs that look more tanned, toned and party ready. Alana Philips, Strictly Come Dancing's make up artist and BIC Soleil style team member
Legs Eleven:
If your legs are looking a little bit tired, a sneaky way to brighten them up is to dust the front of your legs with a shimmer dust and shade the inside of your thighs with some darker bronzer. The result is legs that look more tanned, toned and party ready. Alana Philips, Strictly Come Dancing's make up artist and BIC Soleil style team member