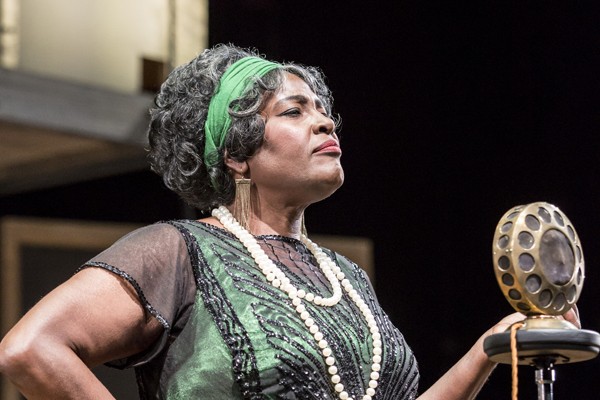 Entertainment
Theatre Review: Ma Rainey's Black Bottom
By
|
★★★★
A tale of Ma Rainey 'mother of the blues' at the height of her fame and success and her tug of war with her recording company for creative license over her own music. A struggle that was just the tip of the iceberg for people of colour in Chicago in 1927 where the play sets it's scene. The struggles for ownership of one's own self, one's life and prospects raged all over the Americas for people of colour, and take centre stage in this formidable revival of August Wilson's play.
Ma Rainey's Black Bottom takes a refreshing perspective on this historical, yet still poignant issue- focussing on the internal struggle of subjugated black Americans trying to reconcile their identity with their circumstances. The title character, played by Sharon D Clarke (TV credits include Holby City, Eastenders and with extensive theatre credits including Everyman, 50 Years on Stage, The Amen Corner) is incredibly convincing as the first Madame of blues. But the real story happens downstairs. In the band room among the drinking, smoking and expected chatter of supporting band, Cutler (Clint Dyer), Slow Dragg (Giles Terera), Toledo (Lucian Msamaati) and Levee (O-T Fagbenie).
Between the prolific (and understandably accurate) use of the N-word the audience gets a real sense of the comradery among band mates, as it faces off with the inherent isolation of being a working class black man in early 20th century America. What starts off as a slow paced production where idly exchanged dialogue is the only plot tool, builds to an emotional crescendo where the simple set transports the audience into the America of the black population at that time. Tales of torment, assault, of love and of loss as told in the simple Southern American dialect pull you into another time. The tales told become more vivid than if they were to be acted out on the very stage before you as the actor's emotions- pain, fear, despair- are more tangible than the well dressed stage in the intimate theatre.
For a production thought to be about the birth of the blues, this is by no means a musical. A few well-timed musical numbers pepper an at once playful and poignant production. Gile Terera's voice is an unexpectedly haunting punctuation to some of the show's most intense moments. The comedic timing of each actor was faultless and stopped the racially charged show from weighing too heavy on the audience, before it's time. But race is the absolute focus here. As each band member's back-story takes centre stage.
An incredible insight into a bygone era and the struggle that for many of us, still rages on.
Ma Rainey's Black Bottom is on now at the National Theatre until May 18th. Get your tickets now.