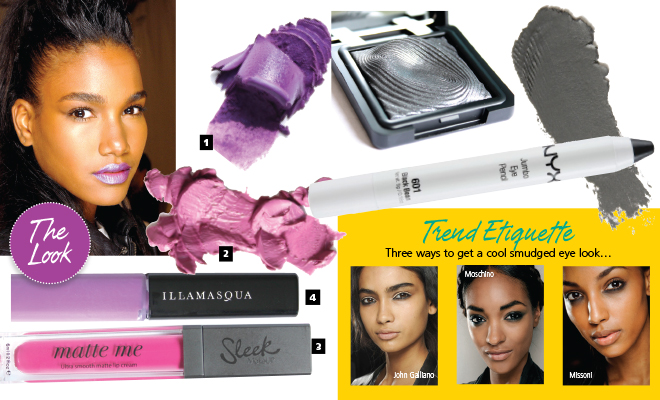 Beauty
Beauty Black Edit
By
|
Hot beauty buys, news and trends for the modern black women.
Purple Pout
Bored of the usual pink or red lipstick and want to try something a little different from the norm? Then why not set your sights on a purple pout, in either a vibrant metallic shade or a deep almost black hue for the cooler months.
Ge the Look:
1: Illamasqua Lipstick in ESP (£16.50)
2: M.A.C Lipstick in Up The Amp (£15)
3: Sleek MakeUp Matte Me Lip Gloss in Fandango Purple (£4.99)
4: Illamasqua Intense Lipgloss in Fierce (£14.50)
Body Treatment Review
Debbie Thomas Collective
I have this stubborn tyre of flab on my stomach that I can't seem to shift. I eat relatively healthily and try to exercise at least three times a week but it just stays put. So I headed down to Debbie Thomas Collective for a DNA Treatment, which is designed to tackle such problem areas. The treatment includes using a Med Contour Machine, which heats the fat up in order to break down and excrete fat cells. A gel is rubbed over my stomach and a machine, which emits heat, is continuously rubbed over the same area. As your skin gets hotter you can feel some discomfort, almost like a stinging sensation – not too dissimilar to getting in a too hot bath, but the overall experience is very bearable and I even fell asleep during the process. Also a machine which encourages lymphatic drainage and the removal of toxins is used on the neck and stomach and feels like having the end of a hoover placed at different points of your skin – it seems a little strange but it's all in the aid of fat loss! After the first session I was amazed to find out I lost just under an inch from my waist. In order to see better results I was encouraged to eat a healthy diet and to drink lots of fluid. The more sessions the better the results so I think I'll be heading back very soon!