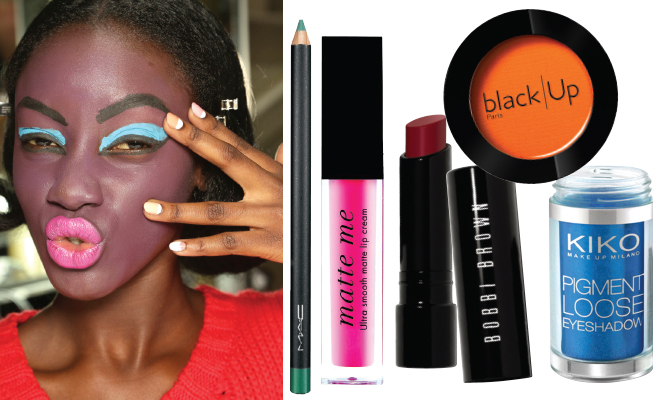 Beauty
Beauty Rhules
By
|
Colour me bad?
Colour is a beautiful thing – but often there is a thin line between love and hate says Shevelle Rhule.
Colour looks great on black skin. That's a fact. Bold purple eye shadow, orange blush or red lipstick all work beautifully against chocolate and caramel complexions. Our darker skin tones give us the benefit of being able to carry off a myriad of bright colours that can look garish on paler woman. And all the beauty experts agree; colour and melanin enriched skin equals a match made in vivid heaven.
However I'm certain I'm not alone in thinking too much of a good thing isn't necessarily… a good thing. I've noticed that some black women have taken this colour philosophy a little too close to heart. There is a particular middle-aged lady I see at my train station who has a fondness for wearing as much colour on her face as humanly possible. A powder blue eye shadow is worn up to her eyebrows with fuchsia pink lips and burgundy blush which isn't too dissimilar to how my four-year-old niece looks after she's gotten her hands on my make up bag.
Perhaps I'm being a little mean – women should do what makes them feel happy right? Even if that includes looking like they have thrown up colour all over themselves. But often a little goes a long, long way and I have always been of the school of thought that colour looks best when concentrated in one area. Vibrant green eyes are stunning with a nude lip. Orange lipstick, bronzed cheeks and a dash of mascara – yes please.
Vibrant make up should look beautiful, fun and playful without appearing forced. Otherwise it makes the wearer look like they tried far too hard with very little know how, that or they've been transported from the Eighties. So this month choose your colour and where you apply it well. Black women are made to wear colour – just perhaps not everywhere!
Colour me right
Check out my fave colour cosmetics that pack a punch without being overbearing!
1) BlackUp Blusher in 06 (£18.50)
2) Sleek Matte Me Lipgloss in Brink Pink (£4.99)
3) Kiko Loose Pigment in 07 (£5.90)
4) M.A.C Eye Kohl in Minted (£14)
5) Bobbi Brown Creamy Matte Lip Color in Jenna (£19)