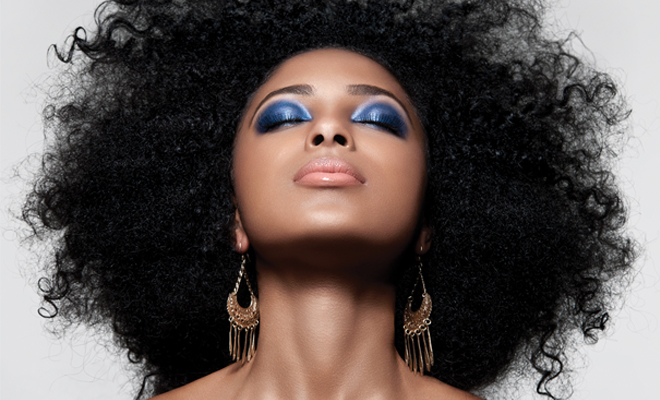 Beauty
Heavy Metal
By
|
Photography: Rob Sheppard
Make up, creative direction and words: Bolanle Okusanya Feyita using Dermalogica Skincare makeupproonline.com
Hair: Patrick Forini
Models:  Lauren Sweenton-Feeney and Maggie Sarai
Co-ordinator: Amy Amy
Look as expensive as precious metals with these classic and sultry metallic looks.
Wearable Metals
Celebrate all shades of black beauty with metallic earthy tones. Start with applying a gold hue along the inner eyelid, blending into peach then brown shades from the Dior Endless Shine 5 Couleurs Iridescent Eyeshadow Palette (£40). Add some more glam with 204 Ardell Double Up Lashes (£5.50) and soften brows with M.A.C Brow Set in Girl Boy (£13). Define lips with M.A.C Lip Pencil in Stripdown (£12), fill in with Barry M Lip Paint in LP154 (£4.49) and add a touch of gold eyeshadow from the Endless Shine Palette (£40). Finally let skin gleam with Lancome Blush Subtil Palette in Plum Elegance (£27).
Mocha Chocolata
This look is the epitome of stylish simplicity. Begin by using  YSL Touche Eclat Foundation (£29) to even-out skin and hide imperfections. Across the lid, apply a deep brown colour such as Choco-Latte from Clinique Colour Surge Eye Shadow Quad (£26). Then use the lighter tones over the middle of the eyelid alone and apply YSL Baby Doll Mascara in Black (£24.50). Finish by defining lips with 2 in 1 Lip Pencil (£15) in shade JUM01 and fill with Lipstick in RGE0 1 (£15.50) both by BlackUp.
Unashamed Colour
Go all-out with bold blocks of rich colour on the lids teamed with nude lips for high-impact! For this look, layer super intense product like Nars Eyeshadows in Outremer (£18) and Tropic (£18). Create a barely-there effect on the lips to compliment your bold eye colour. Those with paler lips shoud use nurturing Glow Lipstick from the Make Up Store (£12.50) and those with darker lips should try Nude Caramel from Clarins (£18.50). Add some luminous sheen over your pout with Intimacy Sheer Lipgloss from Illamasqua (£14).