THE BLACK BOOK (Starring Tyrese Gibson and V. Bozeman) from Voltron Pictures on Vimeo.
Entertainment
Tyrese Presents An R&B Love Story With 'The Black Book' Short Film
By
|
After dropping teaser after teaser, R&B singer Tyrese Gibson released the emotional love story and musical short film The Black Book on Easter Sunday (March 27th) starring himself.
He takes audiences back to real R&B with his killer soulful vocals in his directorial debut featuring Empire's V. Bozeman as the role of Tyrese' wife, and Tank.
The Black Book uses elements of the popular romantic movie 'The Notebook', as it features an older couple on their anniversary as an older Tyrese retells the love story of him and his wife, who suffers from Alzheimer's.
The 25 minute video is a trip down memory lane which shows the chaotic relationship between Tyrese and V's characters. They go through a dark place with arguments, fights and dramatic moments, sharing the pain through their powerful voices, nevertheless their love still lead them to the alter.
The short film merges three songs from his Black Rose album, featuring the woman anthem with V. "You Can't Break Me", "Waiting On You" and "Prior To You" featuring Tank.
By the end of the short film which will surely tug on your heart strings, you will begin to wish that it was longer than 25 minutes – a whole 2hr movie even! Not to worry as Tyrese has revealed that he'll be making an extended version of The Black Book – oh yes!
He uploaded an Instagram post of a script, with the caption: "….I'm about 17 pages into #TheBlackBook as a full feature" He adds: "I would be crazy 1/2 to NOT follow up on this and see how far it can go – Ok cracking my knuckles I'm going back in".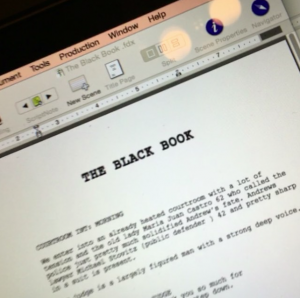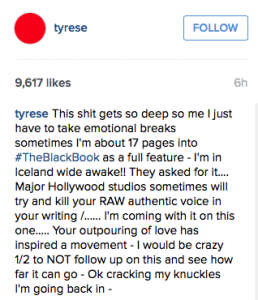 Watch the video above: