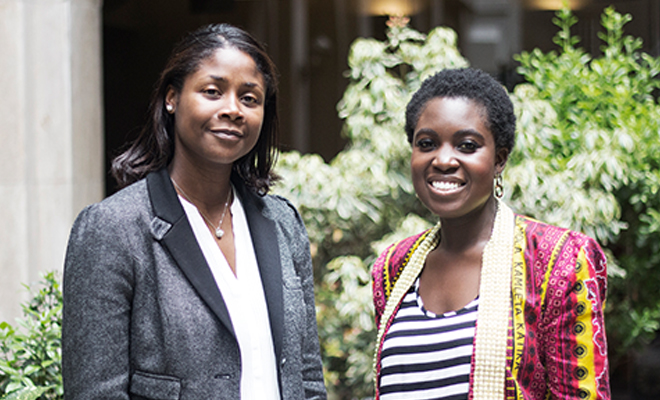 Careers
ME & MY CAREER
By
|
SANJAY ANDERSEN
Chief Inspector, City Of London Police Economic Crime Directorate
She's one of the youngest Chief Inspectors the City of London police has ever seen rising to the top of the force in record time. Afua Adom finds out the secrets to Sanjay Andersen's success.
When I was younger I never really wanted to do anything to do with law enforcement or policing – which is ironic considering what I do now. However I feel that I always possessed some of the skills needed to be in the police – I was nosy and always up in everyone else's business! Coming from a family where both of my parents were teachers – my mum was an adult education instructor and my stepfather taught secondary school – education was always really important so I ended up at university doing an undergraduate degree in management studies at Brunel. I met my husband at university and then in the third year we had our first son. I was only 20 so I was pretty young but I guess the kind of teachings from my parents hadn't gone away so there was never any doubt or question about whether or not I was going to finish university. I took some time out when Damien was young and then went back and completed my final year. Whilst I was off from university, what I did do was go and join an agency and worked at a local mental health clinic where I lived at the time, which was Haringey in Tottenham. I returned to uni and when I finished and graduated I went back there and that's how I came into my first working role. I was the Carers Co-ordinator for the borough, so I had responsibility for developing services for carers within the borough. I kind of came to the realisation that this probably wasn't what I wanted to do but what I did recognise is that I really enjoyed the interaction that I had with the community coupling that with my general inquisitivenes. Around Tottenham particularly during that period there was lots going on, lots of police presence and I always wanted to know what was driving it, why were they there, what were they speaking to that person about, what were they going to achieve as a result of doing that. So when I saw an ad for the High Potential Development Scheme (a scheme which fast tracks you to the top of the police force) I thought, "Oh this sounds good, it will give me an opportunity to use my degree and progress in a structured way within an organisation."
I applied and was successful and I guess that was the second stage of my career working with the City of London Police from August 2002. After two weeks of induction I was sent off to Ashford in Kent for my training which was three months away from home during the week and going home at the weekends. It was an incredibly stressful, challenging period because Damien at that time was still a baby and my husband worked as well. But this was the kind of career that I wanted to go into so I had to get on with it.
I've always tended to work in an environment where I was the only female, the only ethnic minority and absolutely the youngest.
I was the first person in 16 years to be selected for the High Potential Development scheme, successfully go through all the stages, be chosen and make it onto the force. Add to that the fact that I was black and female, there was a lot of interest in me from the time I joined the scheme.
I must admit I faced difficulties and I think they were a variety of reasons why. I think the fact that I was on the HPDS scheme set me aside from a lot of my colleagues and there was a lot of suspicion around me and you know, who I was, why am I here. There was also the expectation that I would get everything right. Was any of it was driven by race? I don't know, I've grown up in London and I'm part of a multicultural couple so I never look at things and think is that being motivated because of my ethnicity or is it just because they don't like me. However, I think gender did play a part in it because I had a young child, both my husband and I worked full time, I couldn't really participate in a lot of the social activities that the groups did. They were always down the pub but I had to pick up my child by a certain time and I didn't have a lot of flexibility so because of those various factors, that did mean my integration into the group fabric took longer.
I moved through the ranks fairly quickly from Constable, to Sergeant, to Inspector and made Chief Inspector when I was 30, 31, which was pretty young I guess. I'm now with the Economic Crime Directorate (who deal with financial crimes within the City of London area), managing a team of eleven, which is great. I've always tended to work, particularly as I started to move up the ladder, in an environment where I was the only female, where I was the only ethnic minority, and absolutely I was the youngest. For me I've enjoyed the fact that being on the scheme has allowed me to move forward and to progress but in addition to that I try to help others. For me I knew how important it was, particularly when I was going through my difficult first years here, to have a couple of members of staff who supported me, were there for me and could give me that advice and direction in an authentic way. I've always tried to approach my help with other people in that same way.