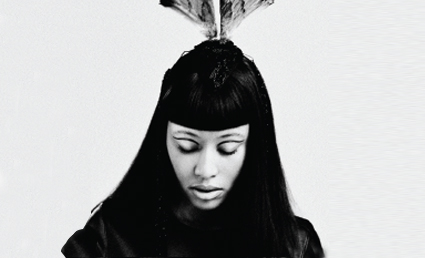 Hair
My Hair My Way. VV Brown
By
|
The eclectic singer and fashion muse VV Brown on Japanese influences and ditching THAT hairstyle. By Shevelle Rhule.
I think your tastes change, grow and evolve… I had been doing the 50s roll since 2005 and when it became a trademark with my music I kept it going, but I think after seven years of doing that hairstyle I was so ready for a change.
I'm really obsessed with the Geisha culture… and wanted to go more high fashion, chic and graphic without being gimmicky. I wanted to do something that was a bit more mature and sophisticated with my hair.
I'm into investing in extensions that are more expensive… that makes the hair look gorgeous and luscious, but at the same time I make sure my own hair is healthy and enjoy my natural hair too.    
I work with an amazing hairdresser called Vernon Francois… he is all about the health [of hair] and before I met him I didn't look after my hair at all. He's really grown my hair and made it healthy so I'm a true believer in having regular treatments, using natural products and oils like Moroccan oil.   
I think black hair is beautiful and there is definitely a stigma about having natural hair… I am so tempted – with experimenting with this whole new look – to go completely natural. I have loads of friends who are Rastafarian – I think it's beautiful.   
When I went to L.A I tried a shampoo and conditioner called Mixed Chicks and I've never looked back – it just leaves your hair looking and feeling amazing.
I think as black women we do hide behind the extensions and weaves…. and we have to move away from that Westernized view of beauty and embrace our black beauty more so. 
For me my hair is my psychological state… When my hair isn't good or I feel uncomfortable with a hairstyle it affects my whole day, my whole mood. When I find a hairstyle that I like I generally stick to that because it works.   
My hair… is my crown.