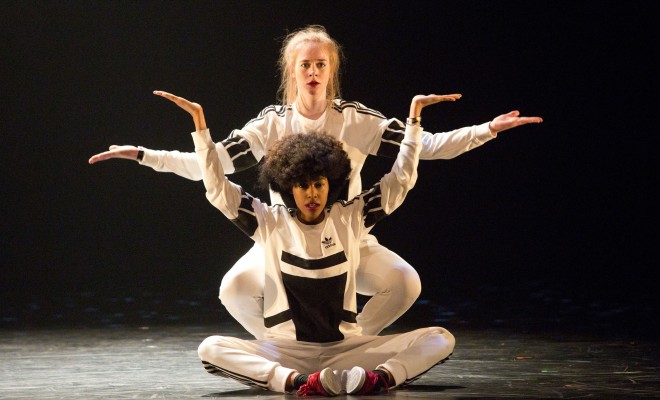 Entertainment
Review: Breakin' Convention 2016
By
|
The May bank holiday marked the hugely popular hip-hop dance weekender that saw an array of breath-taking performances that expanded from the UK across the world.
Hosted by dancer, mentor and founder of Breakin' Convention Jonzi D; Sadlers Wells was packed out for its 13th year for the wonderful celebration of hip-hop culture for all ages, ethnicities and abilities.
Although admittedly very packed with a young crowed, it is definitely the perfect event for a family day out. Apart from the delicious food, break dance workshops and the enthusing atmosphere, the incredible performances were definitely the biggest highlight.
Sunday nights opening act was award winning dance company Boy Blue Entertainment (East London), an act who has eagerly returned every year due to being much admired by raving audiences. The massive youthful cast made a brilliant ensemble through their astonishing skills, impressive stunts and body poppin'. In sync, never failing to stamp on every beat, their dance quality was heightened by their incredible teamwork; full of powerful and passionate energy, it's evident as to why audiences want to see them every year.
One of the most memorable acts of the evening was female duo Daughters of the Dragons. This divine performance portrayed two seemingly different women who become the same person through perfectly synchronised unusual shapes and movements.Their incredibly smooth and sleek flexibility would leave you in awe, extremely hard to lose focus because of their spectacular and beautiful bond.
The unusual and magical Soweto Skeleton Movers (South Africa) presented their gifted abilities as they took flexibility to an extreme level, which kept audiences fully entertained. Playing with floating hats and their shocking ease to tie themselves into knots and break free within seconds was astounding. With their playful personality, they were an absolute joy to watch.
Antoinette (France) crowned the end of the first half with her poignant and powerful tribute to Nina Simone and the celebration of SHE-roes that fought for civil rights. A story told through her hard hitting yet elegant movements and facial expressions, full of confidence, she portrayed the epitome of freedom. Her body was transformed from timid to brave, shattered to free. Left entranced by her raw emotion from head to toe, through the depths of her strides, the force of her jumps and the flow of her body, an uplifting yet sassy performance.
If you missed out, you will be able to see some of the festivals favourite performances, such as Antointte who is embarking on the hip-hop UK Tour until 1st June. They will be taking on eight venues across the UK including newcomers Royal Concert Hall, Nottingham and Gulbenkian Theatre, Canterbury.
Find out more here: