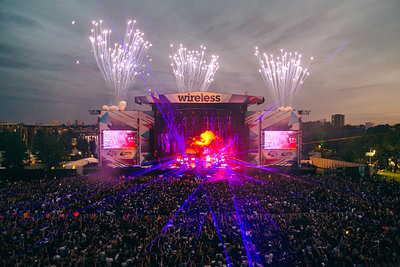 Entertainment
Pride's Official Ranking of Best Wireless 2016 Performances
By
|
3 stages, 2 days (three if you were more hardcore than us),  1 definitive list of the best performances this past weekend.
6. J Cole
It was a bit of a Cole' reception for the Forest Hills Drive rapper on saturday. Although he is undeniably beloved, as demonstrated by the size of the crowd he drew, a combination of tech issues -that made for in and out sound or his lyrics blaring muffled over the backing track- and his decision to lead his set with lesser known songs from the afore mentioned album, had many walking away before he had finally turned to the hits he was known for. Pulling up a stool for 'Nobody's Perfect' and a slowed down rendition of 'Lights Please' were strange choices for a crowd of tipsy twenty somethings, but his set ended on a high.
5. Craig David
This man should have been on the main stage, if only because the crowd he drew could seldom be contained by the Pepsi Max stage. The crowd spilled out of the boundaries of the circus like tent onto the grass and pavement of the surrounding area, but the sound, and the atmosphere carried. Craig David presents 'TS5' seemed to be the UK RnB star's DJ set with a cheeky sing a long to his own hits and a couple undeniable bangers from other artists too. Someone give this man a radio show because even when he's not singing, Craig knows great music.
4. Krept & Konan
The crowd. So big, so energised that Konan appeared to loose his inhibitions, throwing himself into the ready arms of fans at the barriers on a couple of occasions, and disrupting the set to encourage the moshpits that were forming as they performed. Emerging from a London tube at the back of the stage, these guys brought palpable energy and excitement and transferred that enthusiasm to the audience; who finally had the atmosphere that had been lacking in earlier main stage performances. Rita Ora was a cute cameo and her vocals freshened up their smash hit 'Freak of the Week', but those guys dominated the stage even without her.
3. Ghetts
…and Kano. Surprise! Any stage with two of the best rappers to have ever come from the UK, is one that we want to be watching. Crowds descended on Stage 3 and the whole area buzzed and bubbled to the best of old and new grime. Ghetts got so into the vibe that he almost got carried away by fans as he headed into the crowd.
2. Chase and Status
This electronic production duo, with MC Rage & Andy Gangadeen make the kind of music the Wireless Main stage was built for. As saturday's headliners their production has all the smoke and sparkle you would expect- literally, with pink smoke announcing their imminent arrival impressive light displays, fireworks and of course, fire jets. Their heavy beats and eclectic mixes filled all of Finsbury park and it seemed all of Wireless were transfixed.
1. Boy Better Know
Shut. Down. Even if they had had competition on the line up this crew would have still had all eyes on them. It's fair to say that the selection of british and Grime artists in Sunday's line up was the major draw for those that attended on Wireless. While Fergie and Big Sean held their own, it was the British urban artists that created the atmosphere and the vibe you seek at a festival. Boy Better Know practically had their own festival on the main stage with Jammer, Skepta, JME, Solo 45, and co, joined on stage by what looked like at least 30 guys, a nice touch for a song like 'Too Many Man'. While production was pared back, they had great graphics and videos to accompany a set that was really about hearing Grime classics from the crew that set the standard. With such a large group and an even bigger list of hits, they were right at home on the main stage. Oh and Pharrell popping by was a nice touch, although for many his arrival was the nail in the coffin of any hopes of BBK's latest signee, Drake popping by.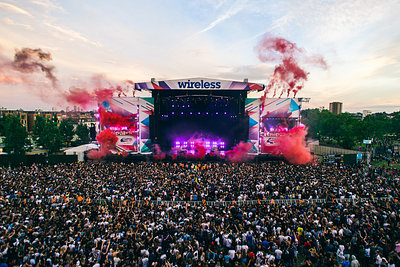 Verdict? The American artists on the line up were a nice touch, J Cole, Big Sean, but unlike Friday at Wireless where is seemed Miguel took the win for the states, saturday and sunday were all about homegrown talent- they had the crowds and the energy. Of course, we could be biased.
(This list is the opinion of the Pride Journalist who attended on the publication's behalf and is not absolute. Unfortunately we weren't able to see every act.)