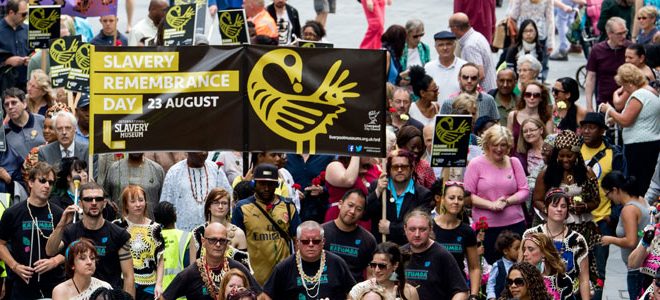 News
SLAVERY REMEMBRANCE DAY: Walk of Remembrance
By
|
The National Museums Liverpool is hosting special days in celebration and remembrance of  the city's 17th annual Slavery Remembrance Day, which is marked on 23 August. Liverpool has been chosen city to hold the special events since 1999, as Liverpool held a significant role as it was the main European slaving port.
United Nations Educational, Scientific and Cultural Organisation [UNESCO] selected the 23rd August, as it honours the uprising of enslaved Africans in Haiti in 1791. The day pays homage to the many lives lost as a result of the transatlantic slave trade and it also celebrates the survival and development of African and Caribbean cultures.
Everyone is invited to remember ancestors and the individuals who were deprived of their liberty by joining the Walk of Remembrance (Tuesday 23 August at 11am) through the City Centre on Slavery Remembrance Day. This year be led by community representatives including the family of Dorothy Kuya, a woman described as 'Liverpool's greatest fighter against racism'.