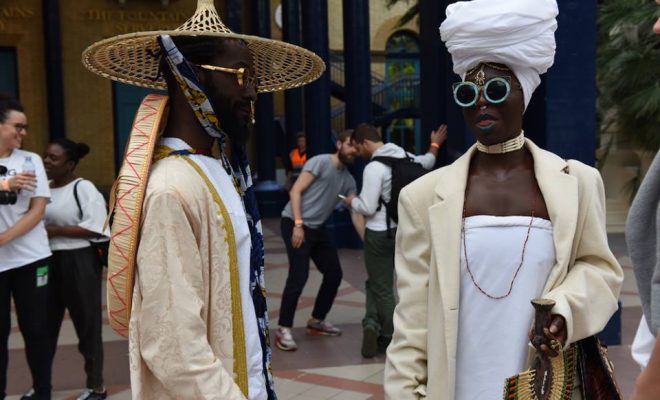 Entertainment
AFROPUNK LONDON, IN REVIEW
By
|
I've scrolled through countless images of Afropunk Brooklyn or Paris. Photos of black women and men, young and old, dressed to the nines in whatever they damn well please. Whether it be flowers in oversized ginger afros, or faces painted with tribal markings, whether outfits leaned more towards afrocentric or punk they all had one thing in common; freedom.
With the weight of a thousand killer photos upon them, Afropunk London were facing a big task to match my hopes. Before I even arrived, I spotted my fellow attendees en route and ended up enthralled in debate and ddiscussion with brown girls like me with their hair in afros, braids and china bumps, in every colour of the rainbow; and with young and older black men dressed in cloth, dashikis or in all black. The experience had already begun.
I was surprised to discover the festival was to be held inside the palace in Alexander Palace park which certainly added to the grandeur upon entry. While I can understand the desire to be rain-safe for the first London edition it did mean the Soulection stage; where Laura Mvula, Shakka, Sza and others rocked the stage; was housed in the brightly lit main atrium alongside the smaller than expected market area.
The market, though not the bustling immersive exchange- of ideas, products, and chatter- that we had expected, did reveal to us a number of interesting and innovative black female creators. One such creative was artist and textile designer Kay Davis, who had us enchanted with her hand painted canvases with psychedelic bright backgrounds and portraits of women of colour at the fore. Kay says she "is heavily influenced by nostalgia of my vibrant caribbean upbringing, a fascination with the cosmos and innocents." Best of all her stunning works were (and are via her online site) available as prints, stickers and badges alongside her handmade pom pom earrings, which happen to be bang on trend.
Dorascreates was another brand we were quickly infatuated with for its images of different women of colour and bright and quirky prints. Dorcas Magbadelo, the illustrator/designer behind the brand showcases the kind of diversity among women of colour in her illustrations, that was so evident at the festival with cards meant to inspire, celebrate and motivate. Alongside totes, badges and prints.
In another room, impressively sound proofed from the former, sat the No Hate (Main) Stage and the I-D stage which alternated acts throughout the day. This room was a nice contrast, plunged into the usual low light you would expect for a gig. Such was a great backdrop for Shingai Shoniwa of the Noisettes who shone in green metallic tassles which swung from her denim waistcoat as she rocked out for her performance, all the while sharing in the loving, safe atmosphere and telling us about her (and I quote) elation to be part of Afropunk London. While in the final room there were a few food trucks/stands and a really cute grass patch under the light of hundreds of brightly coloured lanterns.
Grace Jones was a revelation with her usual dramatic outfits and theatrical performance style she was the perfect close to a festival that's all about the alternative.
So was it everything I hoped? No.
It was more. I was proud of London, of the UK for showing up in our best and most unique fashions and partying like there was no tomorrow.
But it was less too… It was evident that the festival hadn't sold out, and while the atmosphere was still buoyant, it was clearly an event still in it's infancy. This was a baby step, next year I want more british alternative acts, more food stalls -preferably from african and caribbean cuisines- and a market that isn't just an exchange of goods for money but of ideas of knowledge. But, for the most part, that isn't on Afropunk, that's on black Britons to show up and make Afropunk London what it ought to be.