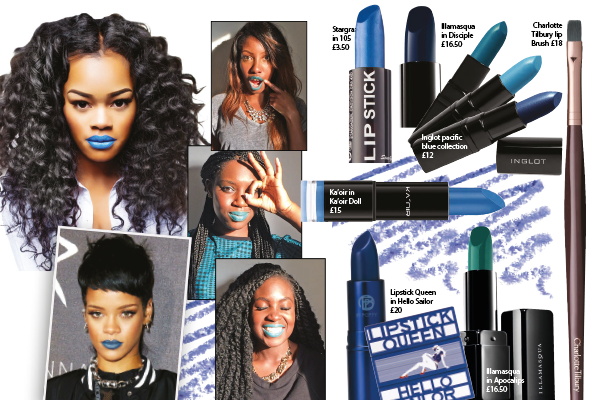 Beauty
Beauty on Trial
By
|
The Pride ladies test out the latest beauty trends and questions whether they work on black skin?

The Trend: Blue lips
It's the official anti-red lip trend that can be seen on the coolest and most daring of them all. That's right blue lips are having their moment so its only right that the Pride ladies test whether it's a look that non-hipsters need not apply. 
Shevelle Rhule, Fashion and Beauty Editor: This blue lip trend is a tricky one as on one hand I think it can looks pretty hip particularly if you have the cool credentials to pull it off ie Rihanna or Teyanna Taylor. But on the other hand most people who cross your path will think you're an idiot. Admittedly I actually didn't think it looked that bad on anyone of us and with my tousled weave I felt like a sexy alien. When I ventured outside however I couldn't quite meet anyone eyes because well I'm wearing blue bloody lipstick! As make up is supposed to fill you with confidence and not self doubt, I think I'll be leaving this trend for when I have a fancy dress invitation – sassy extraterrestrial here I come!
Gloria Ogunbambo, Entertainment Editor: Lipstick can ruin your life! There, I said it. And I don't think I'm being particularly overdramatic either. I truly believe that there is a direct relationship between your chosen shade of lip colour and what others perceive your general level of stability to be – just don't ask me for statistics! It takes a lot for me to venture away from my trusty Ruby Woo but despite being up for taking a much-needed walk on the wild side, I think blue lipstick was a step too far. It wasn't so much the colour I disliked; it was just the way it looked on my already plump pout. I saw a picture of Rihanna rocking a blue lip and looking effortlessly cool. Obviously I didn't think I'd look exactly like that, but I had definitely hoped I'd look more 90s girlbander and less Dalstonite fashion victim.
Afua Adom, Features Editor: I really don't know what to say about this month's trend apart from blue lipstick is the worst. Let me expand. Thanks to Rihanna sporting blue lipstick, allegedly this is the colour of choice for spring. Of course Beauty Ed jumped on this, hence why I look like this. Fans of Beauty on Trial know that I usually love the trends Ms Rhule picks for me but this month is an epic fail. I don't want to say I hate it but I really do. When I looked in the mirror I genuinely scared myself – and my child. It was just far too much. And even when I wasn't looking at myself in the mirror I felt slightly off key knowing I had blue lips by choice. Maybe it's my skin tone, maybe my lips, or maybe it's the fact that this lipstick is blue but this certainly isn't a trend I'll ever, ever, EVER be trying again.