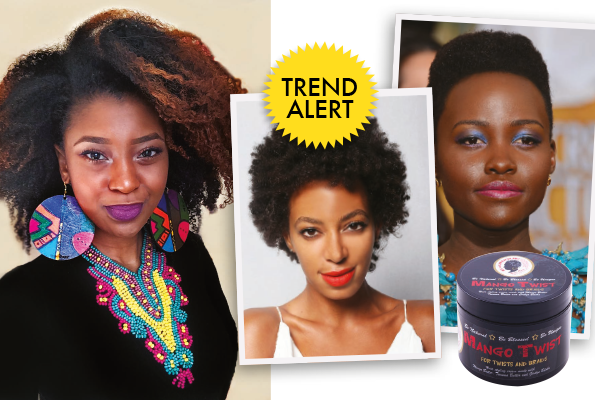 Hair
Hair Blogger takeover!
By
|
Each month we ask a hair blogger to take over a page of Pride. This month it's Laila-Jean Washington of Fusion of Cultures. 
youtube.com/user/FusionofCultures
How To Successfully Transition To Natural
My most frequently asked questions always seemed to be about some aspect of my transition to natural. Many women want to know how I was able to grow out my natural hair for two years before cutting my relaxed hair off.  Transitioning isn't easy but it's definitely simple if you're able to get in the right frame of mind.
1. Do not 'go natural' unless you're ready, the world will not end if you take a minute to think about it. Don't make a commitment you know you're not ready to keep because a relaxer will look more and more attractive with each passing day.
2. Drop your expectations of what you think your natural hair will and should look like… no two heads are they same and no matter how hard you hope and wish for a type of hair, you will get what is true to you. It's that simple. Instead, go into this journey openly and ready to receive whatever hair texture you were blessed with because it's YOURS. Expectations and disappointment can ruin your experience.
3. Think natural. The aim of the transition is to hopefully become completely natural and fabulous! Don't think about how you can make your new growth blend with the straight hair but rather how you can make the straight hair blend with new growth when it comes to styling options. This will avoid heat damage to your natural hair.
The TWA aka Tiny Weeny Afro
More popularly known as the fade, this is currently my 'lust style' of the moment. Over the last few years it's undoubtedly picked up momentum amongst black women and I can certainly see why, with celebrities such as Solange Knowles, Jill Scott and Viola Davis to name but a few showing us just how elegant and feminine it can be. Right now, all eyes are on Lupita Nyong'o and she wears that short hair like a queen.
Top Tip:
Finding the right styling product can make a world of difference to your hair and of course who doesn't appreciate a good hair day ladies? One of my must haves for styling is Beunique Care Hair's Mango Twist (£7.45).  It provides great hold, shine and moisture. I love to use it for my twist outs and flat twist updos. Transition styling is all about blending texture and this product is perfect for that.