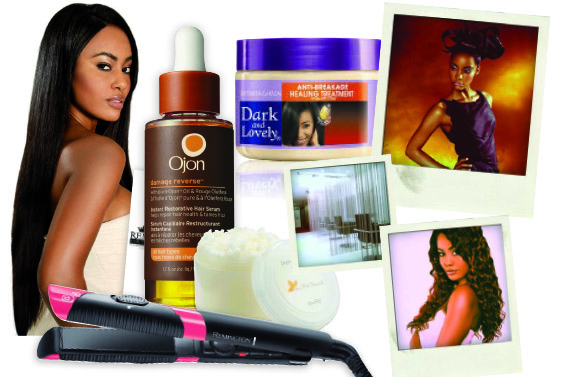 Hair
Hair Buys
By
|
The best products for your hair.
Instant revival
Finally put a stop to frizzy hair with Instant Restorative Hair Serum by Ojon (£22; www.johnlewis.com). Enriched with vitamins   and E, this lightweight serum repairs and protects hair against environmental damage.
Coconutterly fabulous
Keep your hair nourished and conditioned over the winter with Crown Pride's Natural Coconut and Sapote Soufflé (£9.99; www.crownpride.co.uk). This light oil treatment works to soften, condition and add shine to all curly hair.
Quick and simple
Change up your style with Stylist Multi Style by Remington (£49.99; www.remington.co.uk). This all-in-one appliance will give you tight bouncy curls or a sleek straight bob in an instant.
Healing power
Say hello to beautiful hair with Dark & Lovely's Healing Treatment (£2.99; www.pakscosmetics.com). It works by reinforcing weak hair and making it 10 times less likely to break.
Un-beweaveble
Upgrade your weave with Sleek's Remy Couture (from £69.99; www.pakscosmetics.com). This 100% premium hair has been bound with an intricate stitching technique to stop it from shedding and it's highly resistant to water damage too. 
Salon Spy
Pride searches for the best hair salons in town, so you don't have to!

Earth Hairdressing
Perfectly situated off Oxford Street this is the ideal opportunity to have your hair glamourised after a shopping trip. So off I head, laden with Topshop bags to meet Alyson  Richardson, ex-Beauty Editor of Black Beauty and Hair Magazine and top hairstylist. The atmosphere is friendly and welcoming and it's clear that the clients consider the stylists to be so much more than  just hairdressers. I opt to have the Mizani Moisturfusion treatment, which is an intense and fast absorbing formula to help seal the cuticle preventing against future moisture loss. Often my hair is quite tangled after washing but thanks to a intense dose of the avocado and almond oil treatment the comb streamed through my tresses with ease. My hair was then expertly blowdried so it still had bounce and movement and then straightened for a sleek finish.  My hair looks super glossy with the perfect bounce and as I swing my tresses I have the 'swish'. Now with my expensive looking A-list hair I might even trade my Topshop wares for Selfridges – then again with one look at my bank account maybe not, but at least I have gorgeous hair!
Earth Hairdressing. 37 Eastcastle Street, London W1W 8DR, 020 7291 3670, www.earthhairdressing.co.uk