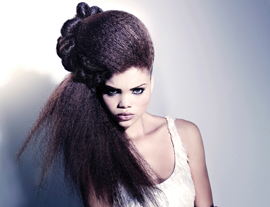 Hair
5 Easy Steps to Growing Healthy Afro Hair
By
|
Say "yes" to long strong hair with top tips from Joy Phido, creative director of World of Braiding and Extensions.
1 Chemicals
Limit the use of harsh chemical on your hair. You will notice an improvement in growth if you increase the time between relaxers. There are so many in between treatment (such as Mizani in salon Thermasmooth treatment) that can make re growth smoother for longer. Breakage from relaxer is often cause by the overlapping of the chemical on already relaxed hair and thus weaken the strands. Unless you are competent with using relaxers it is always advisable to consult professionals. Alternatively look for other options to groom hair like Brazilian blow dry, which use Kertain to sleek tresses. Trim hair every 6-8 week to prevent split ends causing additional damage.
2 Moisturise
it is essential to keep hair and scalp well moisturised as afro hair is prone to dryness. This can be achieved in a multitude of way from using protein moisturizing shampoo's, deep conditioning treatments, hot oil treatment, leave in conditioner, and hydrating hair lotions too. Steam treatments are also recommended to enhance the condition, locking in moisture and reducing breakage.
3 Healthy Eating
Your body breaks down and dissolves healthy foods quicker, utilising the nutrients your body needs. Good foods such as green leafy vegetables, fresh fruit, oily fish rich in Omega 3 and protein, which is found in red meats, are all great aids in the quest for longer hair. Also drink plenty of water, which will cleanse your system of waste, detoxify your body to ensuring a healthier and shinier mane.
4 Vitamin Supplements
Adding supplements to a healthy diet will ensure your hair grows much quicker. By helping to create a healthy scalp that stimulates hair follicles and encourages a good environment for fast growth. Choose supplement rich in, Vitamin A, which is important for over all good health and beneficial to hair follicles, as it keeps the hair root lubricated. Vitamin C is an antioxidant that helps maintain good circulation, flushes toxins and improved immune system, again aiding with strong hair. Copper helps with pigment and stimulates dormant hair follicles. B-Complex is used to create healthy cells in every part of the body. Zinc aids in cell production, tissue growth, repair and maintenance of oil secreting gland on the scalp. Lastly Vitamin E increases oxygen to improve circulation to the scalp.
5 Sleep
Sleep is so important for achieving healthy hair as it allows the cells in your body to repair and heal itself, so quality sleep is vital. Sleep deprivation is often a result of stress, which can make you susceptible to hair loss. Ideally women need 8 hours of quality sleep per day. Other little thing you can do to encourage growth includes massaging the scalp weekly to stimulate the hair follicles, cutting out smoking and caffeine from your diet and avoid too much heat and over all stress on your hair too.
For more information visit www.worldofbraiding.com