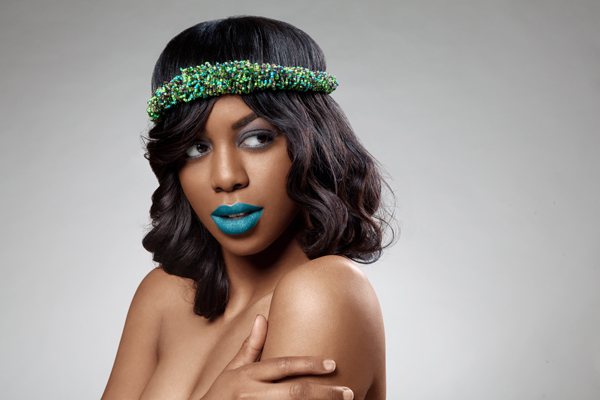 Beauty
Lip Service
By
|
Look flat our fabulous with Pride's pick of bold lips colour.
Make up: Tinu Benson using Dermalogica and MAC Cosmetics
Photography: Abi Oshodi
Hair: Avos Hair
Model: Dani Babycham
May Day

Welcome the month in with a bang with a glossy blue pout and soft grey eyes. Get this look by prepping the skin with Smashbox Photo Finish Foundation Primer (£25), which creates the ideal skin canvas by reducing pore sizes, and giving skin a velvety smooth finish. Follow this with black Up Paris Matifying Foundation (£27) and buff in with a foundation brush. On eyes apply Bobbi Brown Eye Shadow in Steel (£17) a dark grey with subtle and eye popping in equal measures. Finally on lips apply Illamasqua Apocalips (£16.50), this teal coloured lipstick has amazing pigment and add a little clear gloss to really packs a punch.
Fresh as a Daisy

Create a pretty barley there make up look by softly defining brows with Urban Decay Brown Box in Brown Super (£19) and then clean around the edges with a liquid concealer. Buff in Clinique All About Shadow Singles in Blushed (£16) over the lid and define with a liquid liner from Maxfactor (£6.99). Add a white pencil to the lower lash line to open eyes. While Sleek Matte Me in Petal (£4.99) will give even two-toned lips a soft pink finish.
Merry Berry
A soft berry red with a pink tint is the spring version of the popular deep winter berry look. Start by lining lips with MAC lip liner in Beet (£12) and apply Nars Satin lipstick in Afghan Red (£18.50), bloat with tissue and apply delicately on top.
Power Pink

When the sun is shining, pink is an amazing hue for black women to wear as it radiates health and femininity. Smear a bold pink like MAC Girl About Town (£15) and add some clear gloss for a super shine effect. On cheeks add a single sweep of black Up Paris Blush in 01 (£19) and smudge Rimmel Kohl Liner (£3.99) along the water liner with your finger.