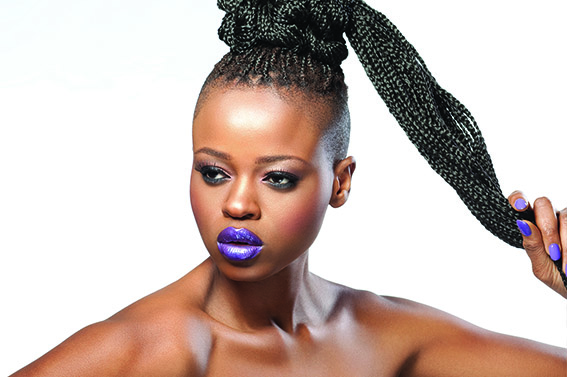 Hair
Braided
By
|
Hair: Angela Plummer using Sensational (angelaplummer.com)
Photographer: Abi Oshodi (ao-photography.co.uk)
Make Up: Valerie Saint-Amand using Black Up cosmetics Paris (vsaintamand.book.fr)
Model: Lisette Mibo
OVER THE TOP
Braids are a great way to give your own tresses a break from styling and a good protective style in the cooler months. Start by tying hair toward the left or right temple and then separate into four, twisting or plaiting, and then finally fold all the ends under together and secure with pins.
TIGHT PULL
No two updos are ever the same making it the ideal way to truly individualise your hair. Get the look by separating braids in half and pulling the back into a ponytail. Then further separate the remaining hair into twists and wrap around the ponytail.
BACK AND FORTH
Braided updos really do have a special something, as often shown by singer Solange Knowles. Start by braiding hair into a French plait from the back of the head forward, plaiting all the way to the end. Then finish by pulling the braid backwards for a hip look.
KINKY TWISTS
Recreate this look by twisting three braids at a time over the entire head and securing with bands. Then pull the twists back and forward to sporadically create a mass of amazing texture, which you can make as individual as you like.