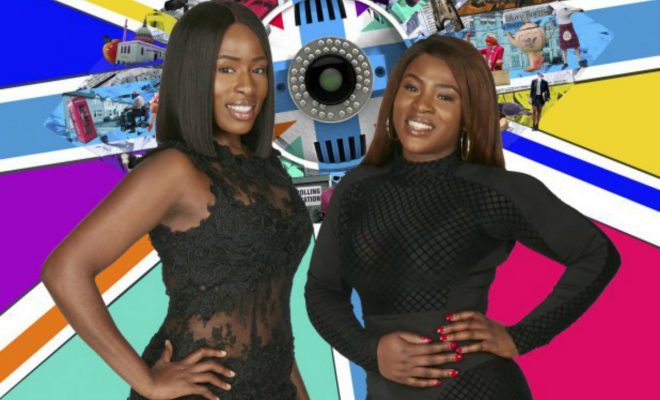 Channel 5
Entertainment
'Aggressive? We're just trying to spread love!' Big Brother's Deborah and Hannah Agboola open up on life outside the house
By
|
It's not often that we get to see a black British woman on our screens, being completely herself and making no apologies for it.
But this summer, we didn't have just one example of this – but two, in the form of sisters Hannah and Deborah Agboola. Mum-of one and digital analyst Deborah, 25, and reigning Miss Nigeria UK Hannah, 23, made it all the way to the final week, with Deborah coming in third in Friday's (28th July) final.
However, the effervescent duo's journey to the end wasn't without its obstacles: namely an argument with a fellow contestant, Lotan Carter, in which a drink he threw hit them, which led to his permanent removal from the show. Predictably, the two found themselves labelled as 'aggressive' for their reactions – but they stayed true to themselves, and ended up proving their doubters wrong.
As another group of non-camera shy folks prepare for the celebrity run of the show, Deborah and Hannah are getting used to life on the outside – and they popped into Pride HQ to fill us in on their experience.
What's it like being out?
Deborah: It's a lot! Very busy.
Hannah: And you miss so much being away – the biggest shock was coming out and hearing about the Grenfell tower. That was so sad, we didn't hear about that.
How has the reaction from the public been?
Hannah: It's 'Are you from Big Brother? Are you from Big Brother?' all the time on the street! But it's been good, people have been very positive to us.
Black women are often labelled 'aggressive' very easily, especially on reality TV. After your argument with fellow contestant Lotan, this was applied to you too. What do you think about that?
Hannah: In the house, I had quite a few disagreements and arguments with people – but then someone else would say the same things I did, and wouldn't be treated the same way. That's why I had to rant about it. I felt like they were fearing something they didn't even know. There was nothing I showed in my actions for them to be scared, or come to the assumption that I am angry, or that I'm aggressive. Just because I have a straight face, or I'm moody, I'm not aggressive – I'm allowed to have a resting bitch face!
Deborah: People feared challenge. Anything that wasn't the norm to them, they were afraid. And if we chose not to conform to something in the house, they then decided to label us. The term 'aggressive' came from a situation that we were not willing to sit down and accept being treated with disrespect. I went into the house never to label anyone, so I wasn't going to sit down and be labeled 'aggressive', just because of their fear. To me, aggressive means approaching in a threatening way, and it makes someone feel uncomfortable. There were a lot of people acting in a way I'd think was aggressive – but they were never called it. I'm not angry, I just don't have a smile on my face every moment.
Did this come as a surprise?
Hannah: We weren't surprised that this happened – it happens in the majority of the places you go to, but you can't allow it to defeat you, or define you. Getting singled out like this isn't even something that's done actively, but you see it when situations get heated and people have a different reaction to you. There was a moment when me and my sister were segregated from everyone, because we had a private conversation – and people said 'oh don't speak to them anymore'. But when someone else did it, it wasn't a problem. You can't allow it to affect you, because it ruins your own experience.
Deborah: To enjoy the journey, we had to let of the bad things that happened. We're woke already, we know what it's like – and we weren't going to let other people's ignorance ruin this experience.
Why did you choose to do Big Brother now?
Hannah: I'm Miss Nigeria UK, and I've always said I wanted to do something my platform to help the youth – and my sister said the same. So when someone in the production company got in touch and said that they were auditioning people in pairs, I knew that it was the right time. We planned our purpose first. We asked each other what we wanted to accomplish, and then we came up with 'One Team, One Dream'. We were saying that to build something truly great, you need to be a part of a team.
It's all about breaking barriers – there hasn't been a pair of black Nigerian British girls making it to the final week. We didn't win, but getting that far is an accomplishment in itself. We thought we'd last until week two or three! We wanted to inspire people, because it takes brave black women to put herself out there and expose herself to other people's ignorant comments. But now, other people can look at us and know they can just be themselves and be accepted for it.
What was different about your experience, compared to what you may have predicted?
Deborah: The diversity in people. We're from the same country, but I've properly learned how culturally different we all are. Things we knew were wrong, but they'd be like 'oh, we do it all the time!' Certain things like how people acted and reacted, how they spoke – there were certain things that you can't do or say. To us, you can't call someone out of their name, but in there it was so normal.
There's a culture problem in society at the moment, where love is minimised. In the house, we were called 'skivvies' just because we like to cook for people. People are pressed when other people are just being kind! We just want to spread love and positivity.
So what comes next for you both?
Deborah: We really just want to do all we can do to put East London and Nigeria on the map. We want to be a good example of our generation, and show the goodness in having a sister bond. Loyalty is so important and people don't have that nowadays. I'd potentially want my own TV show to help inspire young mothers, show them that they can do so much more than what society expects.
Hannah: I want to pursue an acting career – hopefully films that help progress places where I'm from, like 'Top Boy' and 'Ill Manors'. They're representations of what really goes down in areas like that and I want to contribute to that. I'd also love to be on a soap, like 'EastEnders' or 'Hollyoaks'.
Deborah: Basically, wait and see and watch this space – because we're not going to let any opportunity pass us by.