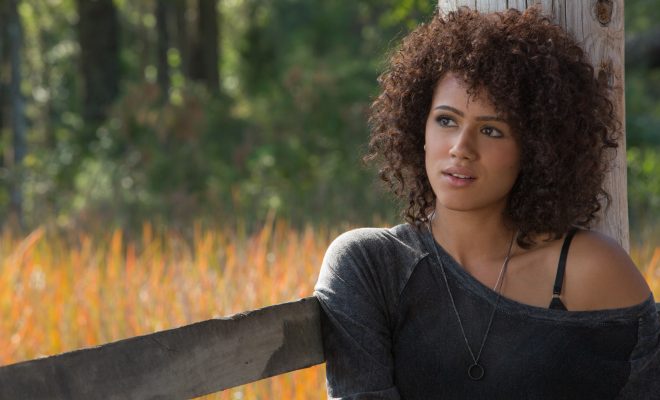 Interviews
From Hollyoaks to Hollywood
By
|
Nathalie Emmanuel is a women in great demand. Currently She is heading the Dune campaign, starring in Hunger Magazine's punk shoot while also being ambassador for Speedo. Also while holding down the day job of being a lead character in the biggest TV series in the world and now starring in the biggest Film Franchise in the World. Not bad for a girl from Southend.
Natalie knows exactly what she wants, which shouldn't surprise anyone, since she's made a name for herself playing women who do not mess around. While many of us know her from her role as Missandei on Game Of Thrones, she's is fast becoming equally iconic in the action movie world thanks to her work as Ramsey in the Fast And Furious movies.
Nathalie explained she has sometimes struggled with feeling positive about her colour and body.
"There's that thing where you just compare yourself to every advert or every poster and think, 'Wait, is that how I should look?' and I just didn't look like that.
'For me, when I was growing up, not seeing anyone on television that looked like me or that I could identify with was really hard, and that can affect someone's self-esteem hugely'.
Nathalie's mother is Dominican and her father is half Saint Lucian, half English but grew up in Essex.
'There has been an improvement in casting,' she said. 'But what I often worry about is because it's been called out that means that now people are saying, "Okay, we're going to make it really diverse."
'Will it be that they just do the one film and then it goes back? If you go up for anything, you know there is always a cast of people and a small number of them are [from] a minority.
'The majority of the cast will be white with a few roles from a different ethnicity. Ultimately that's not the world we live in.'
"I've always had to be positive with my thoughts and be like, 'You know what, how you are and what you are is fine.
"It's not something that had a huge hold on me, but to say I didn't have certain insecurities or was worried about that, that would be untrue. But for a few years now I've been like, 'I look healthy, I look after myself'.
"There's this real pressure and ideas that are put on women on how to be and how to look and how to act," added Emmanuel.
Nathalie managed her big TV break in 2006 when she played Sasha Valentine in the Channel 4 soap, Hollyoaksa role she starred in for four years.
In 2013, she scooped the role of Missandei in HBO series Game Of Thrones, leading to fame around the globe..
Previously, David Oyelowohad laid into the producers of Game Of Thrones for only using ethnic minorities in minor and secondary roles.
Speaking to the Radio Times, the Golden Globe nominee explained: 'The fact that they put any ethnic minorities in that means that there should be space for bigger characters because you're not just saying "OK this is purely a white world, and here are very story-driven reasons why that's the case."
As seems almost obligatory for all the lead female characters, Natalie soon found herselfappearing in a nude scene Game Of Thrones. But she was very happy with it "I feel like it was relevant to the storyline.
I'm not ashamed of my body in any way, it's just a body, I have breasts like every woman and everything else that comes with my body is just my body.
"For me, the shock of it isn't really there. But that doesn't mean I'm going to get my kit off for any part that requires it, it has to feel appropriate."
"I didn't feel in any way exploited, it was something that I actually felt really proud of when I watched it."
And now she is part of the biggest box office opening movie of all time with The Fast and Furious 8.
"It's always such a pleasure to be back with that team again , you know, everyone's so sweet and we just have a lot of fun together. It was really, really nice to see everyone and catch up and also just keep making these incredibly exciting films. It was really fun."
"My introduction into these movies (Fast and Furious 7) was really explosive and it required a lot more physical activity. This movie's a little bit more, like, she's doing what she knows how to do best, which is use her computer skills to help figure out what's going on with Dom. There is a lot of excitement and the car chases and the sort of crazy stuff but in terms of actual stuff that I was involved in, it was much less than the last movie. But really it's just about chasing Dom down and trying to find out what has gone on with him. In terms of the physical activity, the physical stunt work, it was much less this year. But, you know, she's sort of in her element this year doing what she does best and that is trying to find footprints and try to figure out what's happening. She's very integral."
Natalie explains that this is what attracted her to the character.
" I think that there's this real stigma about women in technology, and industries that surround technology. And I love the fact that this is a girl who is exceptional at what she does, is really smart and intelligent, and I think she breaks any stereotypes of the type of person you would imagine in that kind of work. So I really was thrilled to play a smart, very capable young woman. But also, she has interests that people wouldn't necessarily apply to her because she's a woman."
"I definitely like to play smart women who have their own agency, and I definitely look for those kinds of roles. But obviously, when you're looking at any roles, I'm always looking for variety as well. I wouldn't not take a role if it wasn't that, but I'm definitely attracted to playing strong, intelligent women. Ramsey absolutely embodies that."
One wonders with such self confidence Natalie seems to imbue, was she intimated by joining such a successful franchise.
"Oh, of course it was. I have been a fan of every single person on these movies for a really long time, within the franchise but also within their own individual projects. Everyone else's work was something that I'd always watched and been a fan of, so it was really, really intimidating to come into that already well-established family but also people who I really admired. It was really exciting but also I was really nervous. It's like being the new kid at school.
"I just came in with a professional head and pretty much straight away I realised I was amongst friends. They really welcomed me in and were really sweet. All of the guys were really great at making sure I was a part of the family, like, 'You're here now so you're one of us.' It's one thing to be cool with someone on set and make them feel welcome, but every person really made an effort to hang out with me off set and make sure I was okay. I was away from home for the first time really, for a long period of time working on a job in another country. Vin was amazing, and included me in his family gatherings, which he really didn't have to do. Tyrese, he's another one who really likes to bring people together, he very much included me in that. I was really so grateful to everybody and I felt like I fit right in. I was really lucky."
What kinds of things did you all do together?
"They often had gatherings at somebody's house, like I remember when we were filming 7 in Atlanta and there was a fight on and we all went round to someone's house to watch it, that type of thing, going to dinners, celebrating people's birthdays, the things that everyone does with their friends."
Natalie acknowledges that given the high octane characters she has portrayed recently she is differently open to pivot her next roles.
"I know that at this point in my career I'm definitely looking for intimate movies that are character-driven storytelling of everyday people. Don't get me wrong, the Fast And Furious movies and Game of Thrones, they're all very character driven, and we're very invested in those characters, but because they're such huge, explosive productions, I am definitely, in terms of my challenge as an actress, I'm definitely looking for something that's a little bit more intimate and will stretch me in different ways than I'm used to. As much as I'm obviously attracted to those fun action stunt films and projects, I'm also looking for quieter, intimate movies too."
Emmanuel, who began her career in theatre in the late Nineties in West End roles including Nala in The Lion King, said that even with all the her huge success she still has a longing to return to the stage. "I haven't done it since I was a kid so to do some theatre would be amazing. It's definitely something I've spoken about with my agent."
So watch this space.